The temperature Wednesday afternoon at the Douglas County Free Fair could almost be gauged by looking at the fair-goers' mouths: red hot.
As the mercury climbed into the upper 90s, children who had visited the shaved-ice vendor for a cool treat walked the Douglas County 4-H Fairgrounds, baring cherry-tinted teeth and lips every time they smiled.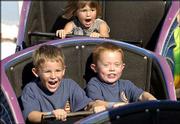 Adults partook as well.
"My tongue's probably red," said fair board member Ron Baker as he enjoyed a moment in the air-conditioned fair board office. "Heat's obviously a problem," he said. "But we're dealing with it."
The fair's petting zoo was a diversion for some youngsters.
Ian Boat, a Missouri 10-year-old who is visiting his grandparents in Lawrence, laughed and imitated a goat that seemed to be stretching its jaw from left to right. He watched as a woman attending the animals climbed over a gate to refill a water bowl.
"They're so lucky to work here," Boat said. "They can pick up the baby goats."
After many unsuccessful efforts to lure the tiny animals to the front of the pen, Boat gave up, pointing out a spot on his shirt where an older goat had nibbled when he got too close.
Today's fair highlights
9 a.m.: Dairy show, community building.
10 a.m.-10 p.m.: Buildings open.
Noon-10 p.m.: Petting zoo and pony rides, building 10.
4 p.m.: Shepherd's lead, judging arena.
4:30 p.m.: Sheep show, old arena.
6 p.m.-11 p.m.: Family night.
7 p.m.: Antique tractor pull, rodeo arena.
7 p.m.-10:30 p.m.: Performance by Crow Canyon, black top area.
A short distance away, a cluster of colorful carnival rides sat silent on the deserted midway. In a matter of hours, the machines would spring to life spinning, rocking and catapulting their riders.
That's the fair's main attraction for the Gaylord children, who sat with their mother, Holly Gaylord, at a shaded picnic table on Wednesday.
But there's a little more to it than that for the Baldwin family. Ten-year-old Chloe Gaylord, a member of the Palmyra 4-H Club, entered her tiger-striped tabby cat, Angel, in last week's pet show, earning reserve grand champion in her class.
The exhibits opened to the public Wednesday and will remain on display through Saturday. Festivities will continue today with a rabbit show, sheep show and dairy goat milking contest. Carnival rides start at 6 p.m., and an antique tractor pull begins at 7 p.m. Music by "Crow Canyon" will cap the day.
Holly Gaylord said the fair had been a great learning experience for her children.
"I grew up on a farm. These guys are city kids," Gaylord said. "It's a good experience for these guys to have a little taste of country."
Copyright 2018 The Lawrence Journal-World. All rights reserved. This material may not be published, broadcast, rewritten or redistributed. We strive to uphold our values for every story published.