Tikrit, Iraq — Iraq celebrated President Saddam Hussein's 65th birthday Sunday with an annual display of government-sponsored loyalty whose theme this year was defiance in the face of U.S. determination to topple the Iraqi leader.
As tens of thousands of people marched in Baghdad, state-run Iraqi media said Saddam's birthday marked the birth of an Iraq "which is free and victorious against U.S.-British-Zionist colonialism."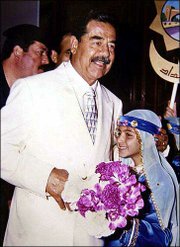 At the biggest celebration, in Saddam's hometown of Tikrit, 100 miles north of Baghdad, schoolgirls performed traditional Arab dances and waved Iraqi and Palestinian flags. Singers praised Saddam as the symbol of "our dignity and pride."
Marchers in Baghdad carried posters of Saddam and Iraqi flags and shouted, "Saddam is our leader forever."
The nationally televised events in Tikrit capped days of state-sponsored festivities around the country. Held every year since 1985, the birthday celebrations show the extent of Saddam's control over the country.
In the past week, official newspapers have published letters from well-wishers congratulating the president and pledging their allegiance.
State television has blared songs of praise and showed old footage of Saddam embracing children, talking to citizens and saluting cheering crowds.
Iraq, normally wary of foreign journalists, invited scores to witness the opulent celebrations, which contrasted with the poverty that grips most of Iraq.
In several provinces, crowds led by members of the ruling Baath party took to the streets, singing, dancing and wishing Saddam a happy birthday.
In a country where dissent is brutally suppressed and few public displays are spontaneous, it is difficult to judge how Iraqis feel about the birthday celebrations.
To some, the occasion may simply be a respite from everyday hardships and a chance to eat birthday cake and other delicacies they cannot normally afford.
Copyright 2018 The Associated Press. All rights reserved. This material may not be published, broadcast, rewritten or redistributed. We strive to uphold our values for every story published.