There's something about holding a book, feeling its weight and the quality of its paper between your fingers as you turn each page, anticipating what lies ahead.
Margaret Hoecker misses that feeling.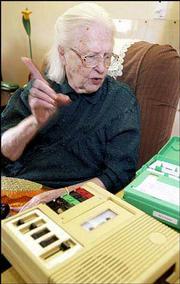 "I much prefer to hold my book and read it," she said. "But the eyes won't do it anymore at 92."
So Hoecker, who lives at Brandon Woods Retirement Community, spends several hours each day soaking up the next best thing: books that read themselves.
Hoecker is one of 288 people in Douglas County 2,500 people in 14 northeast Kansas counties who can't otherwise read a standard book but still enjoy the pleasures of a good read through the Talking Books program.
The federal program, administered in the Lawrence area by the Topeka & Shawnee County Public Library, provides free four-track tape recorders and recorded books in genres from mystery to western, romance to poetry. A limited number of titles in Braille also are available.
The program is open to those who are blind or have visual, physical or learning impairments. Patrons must fill out an application saying they qualify for the program (learning disabilities must be verified by a medical doctor). Then they can immediately begin choosing books.
The only downside to the program, coordinator Suzanne Bundy said, is that not enough people know about it.
"It's a well-kept secret," she said. "And it's a shame because some people have lost their sight but they love to read. It's something they hate to give up. They don't have to."
Customized service
About once a week, an aide comes to Hoecker's room with a catalog of the volumes available through Talking Books, reads to Hoecker short blurbs about different titles and helps her narrow her choices to two or three.
Hoecker is partial to adventure novels.
"That's my first choice," she said. "And the James Herriot books have been excellent."
Then, the aide simply dials the program's toll-free number and places the order. If the books are available, they usually make it to Brandon Woods' mailbox via U.S. mail in as few as two days.
For patrons who don't have someone to help them make selections, Talking Books staff members come to the rescue. They keep track of all the books each patron has ever checked out so they can get a sense of what readers like and avoid sending them repeats.
"It's a very personal program in that our patrons call us ... and we get to know them very well," Bundy said. "We do the book selection for many of them. In visiting with them about what they like to read, it's like chatting with an old friend. We really enjoy it. It's a nice job to have."
A lot better than nothing
Readers of all ages listen to Talking Books.
Teachers in Lawrence Public Schools connect eligible students to the program. Craig Phillips, vision, orientation and mobility specialist for the district, said he didn't know how many Lawrence school children took advantage of the free program.
He noted that listening to a book wasn't as easy as it sounded.
"What happens many times is you lose your place," he said. "You have to really concentrate."
As a tool for improving literacy, he said, the tapes aren't all that effective.
"They learn stories that are on the tape," he said. "But to learn word decoding skills, I don't think so. To learn different variations and spellings, I don't think so.
"But it's better than nothing."
A lot better than nothing, judging from the longevity of the program, which dates back to 1931, when the Library of Congress first began recording Talking Books for the blind and physically handicapped.
The books differ from typical books on tape in that they're recorded at a slower speed and must be played on four-way recorders, Bundy said.
"They do that so they get to the population for which they're intended," she said. "If you don't have our equipment, it sounds like Donald Duck."
Although the Topeka library has up to 10 copies of some Talking Books and access to an extensive interlibrary loan program, it's still subject to the same demand issues as a traditional library. Take Harry Potter mania, for example.
"There is still a waiting list," Bundy said.
But for regular patrons, like Hoecker, waiting for a coveted title isn't a problem. There are always other books to "read" in the meantime.
"I listen often," she said. "I've just now gotten a stack of three, so I'll be taken care of for a whole week."
Copyright 2018 The Lawrence Journal-World. All rights reserved. This material may not be published, broadcast, rewritten or redistributed. We strive to uphold our values for every story published.