Los Angeles — It wasn't long ago that Donovan Patton was a struggling young actor who paid the bills by skateboarding around Manhattan's Upper East Side, delivering videos to famous people. Now he's becoming one of those people.
Patton, 24, is taking over today as host of one of television's most popular children's shows, Nickelodeon's "Blue's Clues," replacing Steve Burns, the show's host since its debut in December 1996.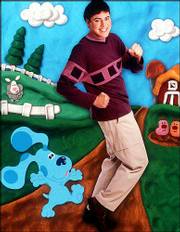 Burns has become a beloved TV icon to preschoolers, some of whom have been known to shed a tear at the news he's leaving making the change akin to Jay Leno replacing Johnny Carson as host of the "Tonight" show for 2- to 5-year-olds.
Patton has been with "Blue's Clues" for more than a year now, filming more than 30 shows. Before that, he had to win over not only the producers at an open casting call, but also tough test audiences of small fries who made sure he could play the "Blue's Clues" game properly.
Indeed, one of the best things about getting the gig, the effusive Patton says, was the opportunity to introduce his 5-year-old sister to Steve.
"They're buddies now," he adds, chuckling.
"She thought that was pretty neat because, for a little bit, she thought he only existed inside the television. And now she's gotten to meet him as a real person."
Making learning fun
The show, which won a Peabody award last year, seeks not only to entertain but also to prepare children for entrance into kindergarten and the first grade by teaching them to recognize colors, shapes, sounds, words, animals and objects in a world that falls somewhere between fantasy and the typical American living room.
For five years Steve and his animated dog, Blue, have embarked on one adventure after another around the house, always by playing "Blue's Clues." It's a game that involves Blue leaving paw prints on three items, each one being a clue to what she wants to do that day.
Steve, who is always a bit slow to recognize a clue, must seek audience help. The result is preschoolers excitedly shouting answers at their television sets.
Actor clued in
Patton, who had rarely seen the show before he landed the job (as a struggling actor he couldn't afford cable television), has quickly come to embrace it.
"It's unique in what it does in trying to make preschoolers talk to the television and have an active part in watching the show," he says.
The only live character in the show is the host, who interacts with such talking animated objects as the end table, the mailbox and the salt and pepper shakers. The actor has to be able to sing, carry on conversations with the animated objects and, most important, display the innocence needed to make children want to help him.
"It's filmed on a blue screen," says Patton. "The whole wall looks kind of like a big wave, vibrant royal blue. They have monitors so you can have a few reference points where things are going to be. But mostly I'm talking to pieces of tape and little pingpong balls cut in half and painted blue. "
Patton, who will be known as Joe on the show, takes over the role in a primetime special tonight during which Steve goes off to college, leaving his younger brother to care for Blue.
Copyright 2017 The Associated Press. All rights reserved. This material may not be published, broadcast, rewritten or redistributed. We strive to uphold our values for every story published.