FONTANA, Calif. — Chad Knaus made the call of his life and immediately felt sick.
Knaus, crew chief for rookie Jimmie Johnson, gambled on the team's last pit stop Sunday, sending his driver back onto the California Speedway oval after simply topping off the gas tank.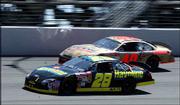 Johnson made the fuel-only stop pay off, driving to his first Winston Cup victory in the NAPA Auto Parts 500.
It wound up being another battle of NASCAR's suddenly omnipresent young guns.
The 26-year-old Johnson held off 23-year-old Kurt Busch, who got his first Cup win last month in Bristol, Tenn., by about six car-lengths on the 2-mile oval.
"We knew it would be close," said Johnson, who won in only his 13th start Winston Cup start. "These guys just let me do my job and we got it done. This is so cool."
Knaus, who also got his first win in only his second full season as a crew chief, said, "It paid off. I was going to get sick to my stomach and throw up after I made the call, but it worked out well."
His driver never questioned the gamble.
"The thought never crossed my mind to take gas only," Johnson said. "I remembered a pit stop earlier in the race when a few cars had done that and it worked out great for them. They got some track position and were able to do something."
The driver from El Cajon, Calif., about 100 miles south of here, added, "When Chad made the decision, I smiled because I knew what it was going to do for us. It was going to put us out in front. I was just hoping that Kurt wasn't going to do the same thing."
It appeared Busch had the best car on the track in the first half of the 250-lap race, building a lead of 15 seconds before a caution flag on lap 141 took him back to the other contenders.
After that, it a see-saw battle among Busch, former series champion Dale Jarrett, Ricky Rudd and Johnson.
Those four were battling, with Jarrett out front, when Kevin Harvick and Dale Earnhardt Jr., two more of the twentysomething stars, wrecked in the fourth turn on lap 229, bringing out the fifth and final caution flag.
The left rear tire on Harvick's car blew as he raced through turn three at highspeed. As the car began to veer down the banked track, Earnhardt's car slammed hard into the driver side, sending both into the concrete wall.
Harvick was not injured, but Earnhardt bruised his right ankle and came out of the infield medical center on crutches. He was scheduled to have the swollen ankle checked again after arriving home in North Carolina.
"I popped the left rear tire going into (turn) three," Harvick explained. "The last thing I wanted to do was hit the (No.) 8 car."
Most of the lead lap cars took advantage of the caution to pit, but Bill Elliott stayed on the track and was just ahead of Johnson for the restart on lap 237. Johnson's Hendrick Motorsports Chevrolet shot past Elliott's Dodge in the first turn and never trailed again.
Busch, driving a Ford, moved past both Elliott and Rudd and grabbed the runner-up spot on lap 247, but he couldn't catch Johnson, who crossed the finish line 0.620 seconds ahead.
Jeff Gordon, who co-owns Johnson's car with Rick Hendrick, saw his winless string stretched to 18, but the defending and four-time series champion pulled alongside his protege to bump the side of his car and give the kid a big thumbs-up.
Gordon, who finished a disappointing 16th after losing a lap on an unscheduled pit stop, trotted to victory circle to join the celebration.
"You rock, buddy," he said, hugging Johnson. "I guess we hired the right guy."
Asked if he was surprised that Johnson won so quickly, Gordon, only 30 himself and owner of 58 victories, said, "When the right chemistry gets put together, it doesn't matter how many races you've got under your belt."
Johnson, whose previous best was third last month in Atlanta, admitted he was a little surprised to win so soon.
"Heck, yeah," he said. "You always think you've got enough ability to win, but you never know until you get out there and do it."
In NASCAR's modern era, starting in 1972, Harvick holds the record for earliest win, taking the checkered flag in only his third start in 2001. Earnhardt won in his 12th start.
Busch, who wore a straw hat after the race in honor of team owner Jack Roush, recovering from injuries suffered in an April 19 plane crash, could hardly believe that Johnson had beaten him without taking tires.
"You knew it was going to happen, but you never expect to get beat by fuel only," Busch said. "We just didn't have the right position at the right time."
Rudd wound up third, followed by Elliott, Busch's teammate Mark Martin, Jarrett, series leader Sterling Marlin and 2001 California winner Rusty Wallace.
Copyright 2018 The Associated Press. All rights reserved. This material may not be published, broadcast, rewritten or redistributed. We strive to uphold our values for every story published.