Seven and 11 aren't lucky numbers in Big 12 Conference softball.
Kansas University finished with a 7-11 league record after dividing a doubleheader with Iowa State on Sunday afternoon at Jayhawk Field.
In this case, 7-11 meant sole possession of seventh place and, as KU coach Tracy Bunge noted, "There's a big difference between sixth and seventh place in this conference."
Seeds seven through 10 Colorado and Kansas State don't have programs must meet in play-in games at the Big 12 Conference tournament later this week in Oklahoma City. Seeds one through six earned first-round byes.
Kansas won Sunday's opener 5-2 behind the five-hit pitching of freshman Serena Settlemier and a nine-hit attack. All the Jayhawks had to do to earn the No. 6 seed was win the nightcap because they owned the tiebreaker against Oklahoma State (8-10).
"We had our fate riding in our own hands," Bunge said, "and we didn't get the job done on the mound."
Iowa State bolted to a 2-0 lead in the first inning, but the Jayhawks knotted the count in the third on senior Leah Tabb's two-run homer a high fly over the left field fence that tied her with Shannon Stanwix for the most career home runs by a KU player. Stanwix, a Lawrence High product who concluded her career in 2000, and Tabb both have 23 round-trippers.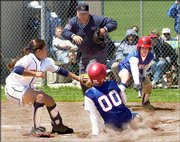 Iowa State countered with a run in the fourth, but Christi Musser forged a 3-3 tie with a towering drive over the center field fence in the fifth.
Several minutes later, however, Iowa State's Lindsey Herrin hit a screamer over the left field fence with two runners on off Kirsten Milhoan. The Jayhawks had no answers for Herrin's three-run homer and bowed, 6-3.
"We needed to keep the ball down and we didn't," Bunge said. "Kirsten is a drop-ball pitcher and she hung one to Herrin."
And so Kansas will meet No. 10-seeded Texas Tech at 5 p.m. Thursday in Oklahoma City. If the Jayhawks win, they'll have to turn right around and play No. 2 Oklahoma at 7:30 p.m.
If Kansas had swept Iowa State, the Jayhawks wouldn't have had to play until Friday morning against No. 3 seed Nebraska, a team KU split with last Wednesday.
"Now we just have to refocus and get ready for Texas Tech," Bunge said.
Tabb and Musser, two of the eight seniors who played for the last time at Jayhawk Field, were Sunday's bright spots.
In addition to her record-tying homer, Tabb had an RBI single in the first game. Her two hits in five official trips she also walked twice boosted her batting average in league games to a gaudy .378. She's hitting .296 in all games.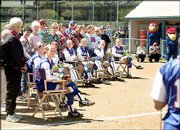 "It would have been more fun if we won," Tabb said.
Tabb's record-tying blast, her sixth of the season, certainly didn't surprise Bunge.
"When I recruited Leah I really expected that was a record Leah would own," Bunge said. "We knew she had the potential. I'm happy for her."
Meanwhile, Christi Musser put an exclamation point on a season that will almost certainly earn her first-team All-Big 12 honors for the first time. In addition to her team-high ninth homer, she slugged two doubles and hiked her overall batting average to .370.
Kansas will take a 31-23 record to Oklahoma City. Iowa State ended its regular season 5-12 in the league and 17-23 overall. The Cyclones will tangle with Missouri in Thursday's other play-in contest.
Copyright 2018 The Lawrence Journal-World. All rights reserved. This material may not be published, broadcast, rewritten or redistributed. We strive to uphold our values for every story published.