Philadelphia — Allen Iverson was a franchise player on Sunday.
After being challenged by his coach to take responsibility for winning and losing, Iverson scored 42 points, including 11 of Philadelphia's last 15, as the 76ers avoided elimination with a 108-103 victory over the Boston Celtics.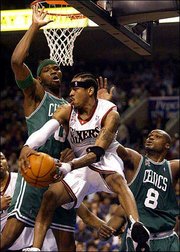 Derrick Coleman got the go-ahead basket for the Sixers with 45.5 seconds left.
Game 4 of the best-of-five first-round series is Wednesday night in Philadelphia. Boston leads the defending Eastern Conference champions 2-1.
Only six teams in league history have come back to win a five-game series after losing the first two. Dallas did it against Utah last year.
"It's not about being a franchise player. All of my teammates are franchise players. Why not? I don't want to put myself above nobody on my squad," Iverson said two days after he deflected blame for Philadelphia's two losses by insisting he isn't a franchise player and shouldn't be singled out because he's just another player on the team.
"I'm a teammate, I'm a player on the 76ers team and that's that. But I do feel like I'm the best player and I'm the captain, so responsibility does come with that and I understand that. I understand when we lose, the finger is going to be pointed at me and when we win, people are going to praise me. That's what I have to deal with, simple as that."
Paul Pierce had 29 points for Boston and Antoine Walker added 27, including seven 3-pointers in the first half. The Celtics hit 15-of-30 from beyond the arc, but only 5-of-16 in the second half.
"We were in position where we were up pretty late in the game and we made silly mistakes," Pierce said. "We turned the ball over too many times."
After missing 10 of his previous 12 shots, Iverson hit a short jumper to tie it at 100 with 1:48 left. But Rodney Rogers nailed a 3-pointer to give the Celtics a 103-100 lead.
Two free throws by Iverson cut it to 103-102 and, after a three-second violation on Rogers, Coleman caught an air ball by Aaron McKie and made a reverse layup to give Philadelphia a 104-103 lead with 45.5 seconds left.
Pierce then missed a jumper, but the rebound bounced out of bounds off Eric Snow. Walker missed an open 3-pointer, but Iverson grabbed the rebound, was fouled and hit two free throws for a 106-103 lead with 19.7 seconds left.
Coleman blocked a 3-pointer by Rogers and Pierce missed one in the final seconds, before Coleman got the rebound and sealed it with two free throws.
"We didn't get the calls," Celtics guard Kenny Anderson said. "You can't cry about it, but we didn't get the calls. It was just bogus."
The Sixers were 36-of-44 from the foul line, while Boston attempted just 18, missing two.
Snow, who was 4-of-25 in the first two games, had 23 points on 9-of-14 shooting, and Coleman had 18 points and nine rebounds. Iverson finished 10-of-23 from the field and 19-of-20 from the foul line.
Iverson, who missed the last 14 games of the regular-season because of a broken bone in his left hand, took some criticism after making just 15-of-45 shot for 49 points in the first two games.
"He said he wasn't the whole team and I laughed," Sixers coach Larry Brown said.
Copyright 2018 The Associated Press. All rights reserved. This material may not be published, broadcast, rewritten or redistributed. We strive to uphold our values for every story published.