Nazareth, Israel — Israeli police arrested nine people recently after a search of their homes turned up material indicating support of Hamas, the Palestinian Islamic movement that wants to destroy Israel. But in a twist on recent news, the suspects weren't from the Palestinian territories they were Arab citizens of Israel.
The arrests Thursday underscore Israel's growing nervousness about the loyalty of its sizeable Arab minority. Israeli Arabs, many of whom have family members in the West Bank and Gaza Strip, make up about 20 percent of Israel's 6 million people.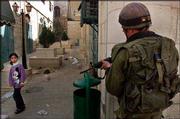 Arabs and Jews have lived together throughout Israel's 54-year history. But in recent weeks, the Israeli military offensive in the West Bank has raised tensions between longtime neighbors and fed fears on both sides that the violence in the West Bank could erupt in Israel itself.
"The percentage of Israeli Arabs who support the Palestinians is growing higher and higher," said Gideon Ezra, deputy minister of public security.
Ezra acknowledged that only a handful of Israel's 1.25 million Arab citizens are known to have actively supported terrorist acts by supplying transportation, shelter, intelligence or identity papers to Palestinian attackers. An Israeli Arab committed only one of 37 suicide bomb attacks since hostilities broke out in September 2000.
"Most Israeli Arabs have nothing to do with terrorist organizations, and they are loyal to the state of Israel," Ezra said.
Still, Israeli Arabs freely speak of their rage at the recent Israeli military incursion, which destroyed offices, shops and homes in the West Bank.
Israel has responded with arrests and detentions.
Israeli Arabs say peaceful support of Palestinians in the West Bank and Gaza is their democratic right.
"Our feeling is they are trying to punish us because we support the Palestinian people in the Palestinian territory," said Shawki Khatib, mayor of Yaffa of Nazareth and head of a committee of local leaders active in organizing humanitarian aid and pro-Palestinian demonstrations.
"This connection between our situation and the security of the Israeli state is an excuse to suppress us," said Walid Fahoum, a former deputy mayor of Nazareth and an attorney.
Fahoum said he is worried by the radical spirit of the times. At a recent gathering to commemorate one of the area's villages that was abandoned after residents fled the 1948 war, young men interrupted a sympathetic Jewish speaker by chanting, "Let's talk candidly, we don't want to see Jews."
It was troubling to Fahoum, a kindly, dapper, white-haired man.
"It's our destiny to live with the Jewish people," Fahoum said. "We want to make a common struggle for equality and peace."
Copyright 2018 The Lawrence Journal-World. All rights reserved. This material may not be published, broadcast, rewritten or redistributed. We strive to uphold our values for every story published.