Salt Lake City — Mike Bibby usually watches someone else in Sacramento's high-powered offense once he passes the ball. This time, the point guard did most of the scoring.
Bibby scored 26 points and Peja Stojakovic added 21 as the Kings escaped with a 90-87 victory over the Utah Jazz on Saturday, giving Sacramento a 2-1 lead in the best-of-five series.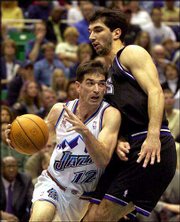 Bibby started slowly, shooting 2-of-6 in the first quarter, but he had nine points in the third quarter and stabilized his teammates down the stretch as the Jazz made it close.
"Mike Bibby, he's a rock," Kings swingman Doug Christie said. "He's Iron Mike. He takes his time, shoots his shots."
The Kings can wrap up the series in Game 4 on Monday night.
Sacramento played another ugly game, shooting 35 percent and committing 20 turnovers, but it didn't matter when Rusty LaRue's two three-pointers in the final 8 seconds failed to drop for Utah.
"I was open. I just had to try to get it up quick," LaRue said. "I kind of rushed it."
In both of their playoff losses, the Jazz made a late gaffe. In Game 1, Scott Padgett tried to tip in a three-pointer when Utah trailed by three.
This time, Bryon Russell missed a layup that would have brought the Jazz within 88-87 in the final minute. Russell appeared to put too much spin on the ball, and it went straight up and down in front of the hoop.
"My hand hit the rim and, bam, it was over with from there," Russell said. "I should have dunked it."
Hedo Turkoglu grabbed the rebound, and Christie went 2-for-4 from the free throw line over the final 17 seconds as the Kings barely hung on.
"You make free throws at the end, and it's not as close," Christie said.
Russell made another mistake when he caught a pass from John Stockton but landed out of bounds with 59 seconds to go and Utah leading 85-84. It led to two free throws by Bibby that gave Sacramento the lead for good.
The Kings did a better job than they had in Games 1 and 2 of running the fullcourt offense that led the NBA in scoring.
"What we really like to do is run," Bibby said.
Asked about leading the team in scoring, Bibby said he usually enjoys watching.
"I've become too spoiled, coming to this team," he said. "I sit back and watch a lot. We've got the most powerful offense in the NBA. As a point guard, you're there passing the ball."
Karl Malone scored 23 points, Donyell Marshall had 16 and Stockton added 15 for the Jazz. But Utah was outrebounded 55-29, including 16 offensive boards by Sacramento.
Chris Webber was in foul trouble but finished with 18 points and 13 rebounds for the Kings.
The Jazz seemed doomed when Scot Pollard put in a miss by Bobby Jackson, giving Sacramento a 79-70 lead with 8:25 to play. But with Stockton at the controls, Utah slowed the pace and scored 13 straight points over the next five minutes.
Copyright 2018 The Associated Press. All rights reserved. This material may not be published, broadcast, rewritten or redistributed. We strive to uphold our values for every story published.