Kabul, Afghanistan — Defense Secretary Donald Rumsfeld promised Afghans on Saturday the United States will soon come up with money to help them train a national army. The offer does not commit American troops to an international security force the Afghan government wanted.
Interim Prime Minister Hamid Karzai made the best of the plan, saying it might be better in the long run for Afghans to look after their own security. He acknowledged he wanted the British-led international security force in Kabul to be expanded to other parts of the country instead, and joined by U.S. troops, but "we didn't get that."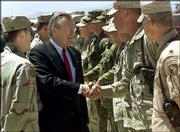 Rumsfeld, in a visit to the capital, said the French were offering to help the Americans train an Afghan force and the Bush administration was working to get money from Congress for that task, so that U.S. assistance can begin next month.
"There will be U.S. money that will be freed up in the immediate future to begin that process in May," the defense secretary said.
Later, in a surreal visit to Herat, he met Ismail Khan, the powerful warlord of western Afghanistan, and apparently found him receptive as well to the establishment of a national army capable of controlling or integrating the country's multitude of factions such as Khan's own 30,000-man private force.
On a tarmac that was pitch black except for the light of a full moon, Rumsfeld stepped out of his plane to the sight of an honor guard from Khan's militia. Khan escorted Rumsfeld as he reviewed the lineup of mostly uniformed men.
Rumsfeld and his host climbed a reviewing stand draped in a red cloth but did not speak from the microphones, instead going into an airport building for their meeting. U.S. officials have considered him too close to Iran and resistant to the new central Afghan government.
But Khan told Rumsfeld he favored a national army and "he thought it would work," Pentagon spokeswoman Victoria Clarke said.
Skeptics say an Afghan force without international partners will be hard-pressed to maintain security over forces like Khan's.
Rumsfeld moved about the region in extraordinary security, including an armed MH-47 helicopter for a ground-hugging flight to Kabul from the U.S. base at Bagram and the MC-130 Special Operations troop-carrier that flew him into Herat.
The defense secretary finished his day in Turkmenistan for meetings today.
In Bagram, Rumsfeld told U.S. troops that Afghanistan is the "proving ground," not the final battleground, for the war on terrorism.
He told reporters U.S. and allied forces in Afghanistan are fully prepared for a renewal of al-Qaida and Taliban attacks.
"There are a lot of people saying 'Well, now that spring's coming, the Taliban and al-Qaida will reorganize,"' Rumsfeld said. "Well if they do, we'll go after them."
Copyright 2018 The Associated Press. All rights reserved. This material may not be published, broadcast, rewritten or redistributed. We strive to uphold our values for every story published.