Sun City Center, Fla. — Maurice Musholt was 51 and teaching when her husband coaxed her to retire.
"I was very hesitant," she said. "I thought retirement would be sitting on the porch like what I saw my parents do."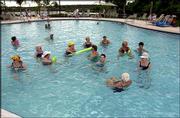 At 58, the retired elementary school teacher from Rockford, Ill., said what she found was a whole different lifestyle.
"We have no porch, no rocking chair and no time," she said. "My biggest need is a calendar because there are so many things to do. Now I encourage people to retire the younger the better."
After nearly two years touring the country in a motor home, Maurice and Wayne Musholt settled at Sun City Center. They were lured by climate, 200 civic and social clubs, 144 holes of golf on seven courses and, a few miles up Interstate 75, an array of museums, professional sports and performing arts in Tampa.
Sun City Center, a community of 16,000 seniors located 25 miles south of Tampa, is celebrating its 40th anniversary this month with parades, barbecues, historical lectures and plenty of entertainment.
As the community took shape in the early 1960s on miles of pastureland in rural central Florida, it was like an oasis rising out of a scrubland.
There was nothing but palmettos and grazing land, bordered by two-lane gravel roads.
Developer Del Webb turned a cattle watering hole into Swan Lake and stocked it with bass for fishing. Four decades ago, recreation was lawn bowling, nine holes of golf, shuffleboard, horse shoes or a picnic.
A two-bedroom, one-bath house sold for $10,000. High end was $17,000 for three bedrooms and two baths on select lots. Buildings looked alike they were modest, rectangular with carports, no garage.
The interstate came 20 years later. And the community began evolving.
Today, residents can choose from villas, condominiums or single family homes. Houses rich with amenities cost 10 times as much as they did in the 1960s. Affluent homebuyers have 12 model homes to choose from in the leisure-oriented master planned community. Prices range between $100,000 and $300,000. Maintenance, club fees, golf and lawn care are extra.
Residents come from all over the United States and 28 foreign countries. Some say living at the 7,000-acre development is like being on permanent vacation in a country setting with big city living nearby.
"This is like a condo on steroids," said 63-year-old Al Hurlbrink, who moved here with his wife from Tampa. "All the amenities you could want and no upkeep. You can dance to live music every night, enjoy a $2 million clubhouse and an 800-seat theater. It's hard to find something not to like."
Groups meet for breakfast, socials, walks, water aerobics, dancing, tennis, biking, exercise class and horseback riding. They study genealogy, acting, ham radio, woodworking, art, ceramics and computers. They travel to Tampa for concerts, touring Broadway shows, Tampa Bay Buccaneers games.
It's easy to find a club for any interest and if not, start one.
"Basically the retirees are the same age as they were decades ago 55 to 70," said Jackie Buckler, an executive with Sun City builder, WCI Communities, Inc. "What's different is the mindset. They are not looking for shuffleboard or slow-paced golf. They are active, energetic people, looking for social activity, computer classes, yoga clubs."
Forty years ago recreation was passive. "The great emphasis today is on fitness-related activities. We can't build the exercise rooms big enough," said Ken Plonski, a WCI spokesman.
Marcia Francis' parents moved from Ridgefield, Conn., in 1962. She remembers when they told her they were going to Sun City Center.
"I thought, 'Oh my word, they're going to go to Florida to die,"' she said.
She visited them, liked the place and now Francis, at age 62, and her husband, Norm, are residents.
Copyright 2018 The Associated Press. All rights reserved. This material may not be published, broadcast, rewritten or redistributed. We strive to uphold our values for every story published.