Lately, Nancy Rolland's been having flashbacks:
It's an arid Oklahoma afternoon.
A mother and her daughters sit in the front yard, storying in the Cherokee tongue as they dip their needles in and out of fabric pieced into an ornate quilt. A young girl plays underneath the blanket, pulled taut like tepee leather between two wooden stretchers.
Rolland remembers being that little girl. The recollections have come flooding back since she joined Piece by Piece, an American Indian quilting circle at Haskell Indian Nations University, and felt the steel of the needle between her own fingers.
Rolland and 14 other American Indian women some students or staff at Haskell, others Lawrence residents and Haskell alumni have gathered Tuesday evenings and Saturday afternoons since January to join kaleidoscopes of fabric into ordered patterns and, in the process, weave generations of oral history into a common thread.
"We're a living example of the way we were. This is tradition right here," Rolland said Saturday, glancing around the room in Haskell's Osceola-Keokuk Hall, where a handful of quilters had assembled to stitch and chat.
Quilt tops small enough to drape over a sleeping baby in a crib hung on the walls next to quilts destined for king-sized beds. The seamstresses had variegated bold reds, oranges and blues with flowered fabrics and arranged them in eight-pointed star and turtle patterns.
The vivid display the wellspring of this quilt project, which is sponsored by a Kansas Arts Commission grant will move upstairs to a computer work area for a public showing May 9 and 10. The baby star quilts among the collection will be part of a Lawrence Indian Arts Show exhibit in September at the Lawrence Public Library.
Before Europeans settled America, natives curled up in blankets made from animal skins, Teresa Chief Eagle said. As Europeans moved westward, she said, they brought new materials and traded with Indians. Quilts now are enmeshed in tribal culture, often serving as the focal points of native ceremonies.
They've been to generations of American Indian women and their children a center around which ancient tales are spun and handed down, Rolland said. In days past, women on reservations would work en masse on one quilt at a time, often finishing an intricate piece in one afternoon.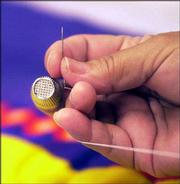 Though Rolland recalls comparable moments from her childhood, college-age women in the quilting group don't have similar wells of experience from which to draw.
"A lot of the younger generations grew up in the city," she said. "They're not around their elders a lot. Coming here, they get to experience something like that."
Many of the women in Piece by Piece are novices, quilting for the very first time, though that's not at all evident from looking at their work, hand-stitched and fixed like quilted stained glass against white walls. They pour hours of painstaking needle work into each creation, never fully appreciating the work of art they've given birth to until it's off the stretchers and spread out before them.
"It's like expecting a baby," Kepsey Fixico said Saturday as she added diminutive quilting stitches to her half-finished blanket. "You know what it is, but you never know what it's going to look like until you put all the stitches in it.
"You don't know what beauty can be created with a needle and thread."
Copyright 2018 The Lawrence Journal-World. All rights reserved. This material may not be published, broadcast, rewritten or redistributed. We strive to uphold our values for every story published.