New York — Men are learning to coordinate their office attire: As the belts get tighter, so do the tie knots.
Many companies are abandoning the business-casual movement as they want to appear more refined in a more restrained economic climate.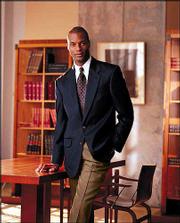 "A lot of CEOs were lured into relaxing their (dress) codes, but they woke up to find a more relaxed worker who comes in later and chats about games," said James Ammeen, executive director of the Men's Apparel Alliance. As companies made a link between casual clothes and attitude, they decided to put a stop to both.
A majority of executives polled by the Men's Apparel Alliance a nonprofit association made up of retailers, manufacturers and distributors said a change in dress would result in work productivity gains.
"The motto now is 'dress for success.' Look serious; look like you care," Ammeen said.
But that leaves many left wondering about the "rules," he said. Because dress codes often are seen more in practice than in a handbook, men are unsure if a suit and tie are required every day or if a sportcoat and slacks are acceptable some days.
"Men aren't built to make these decisions," said Ammeen, who also is president of Neema Worldwide, a manufacturer whose labels include Haspel, Bert Pulitzer and Jeffrey Banks.
That's not to say men don't have opinions about their clothes. Men who are used to the comfort that came along with the casual dress of the 1990s don't seem entirely willing to give up their khakis and colorful shirts. Sweaters sometimes are being used in place of jackets or twill pants are paired with a shirt and tie.
"People are sitting on the fence, whether they dress up or stay casual," said Simon Hobbs, general manager of the upscale New York retailer Turnbull & Asser.
There are ways of putting on a suit and tie while still having a little fun and letting personality show through.
There also are ties in every color, texture and novelty print imaginable to keep corporate clothes from being boring. He compares ties with a woman's makeup "It's the finishing touch."
And they can be worn with shirts of varying degrees of starch.
"Shirts keep some sense of formality, no matter what the print," Hobbs said.
In fact, he notes, classic shirts, with stiff collars, and the American button-down cousin, with buttons to keep the collar flaps down, survive every fashion cycle.
Suits are still the cornerstone of the dress-up wardrobe, but that doesn't mean a closet full of navy and gray flannel. For the summer, there is lightweight poplin; for the modern dresser, there are windowpane patterns; and for the comfort seeker, there are more relaxed silhouettes.
Hobbs suspects there is another reason men are again embracing suits and ties.
"Men also are dressing up because women like men dressed up," he said.
Copyright 2018 The Associated Press. All rights reserved. This material may not be published, broadcast, rewritten or redistributed. We strive to uphold our values for every story published.