Here is a brief look at the Lawrence artists participating in the "Common Ground" exhibit in Ottawa, Canada:
Ann Kuckelman Cobb: A sculptor, painter and art critic, Cobb describes herself as "largely self-taught as an artist." She has a doctorate in anthropology, is a registered nurse and recently retired as a professor at Kansas University's School of Nursing. She mainly works in watercolor and shows regularly in regional art exhibitions.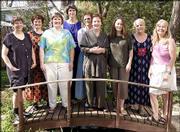 Laurie Culling: She works primarily in acrylic painting and handmade paper collages. Flowers from her garden show up in her work, which also includes mixed-media assemblage and collage. Culling has exhibited her art throughout the United States and in Europe. She has a bachelor's degree in painting and drawing from KU.
Diana Dunkley: Dunkley is an artist, arts administrator, art journalist, curator and community arts activist. She works in a variety of media, including watercolor and assemblage. She has composed 11 multimedia performance and installation pieces. Her work has been shown throughout North America.
Jan Gaumnitz: She exhibits her paintings and sculpture regularly in New Mexico, Kansas and Missouri art galleries and has won awards for her watercolors in juried art exhibitions. She has a master's degree in design from KU, where she also studied bronze casting. Inspired by flower petals and natural wind patterns, her work is vibrantly colored and textured.
Missy Hamilton: She likes to work in metal, particularly metal leafing, and in buon fresco. She earned a master's degree at the University of Oklahoma and worked in a variety of arts-related positions throughout the United States. Before moving to Lawrence, she lived in San Francisco, where she founded Prop-positions, a photography and multimedia props agency. Hamilton has exhibited her work throughout the United States and in Australia.
Susan Jordan: She has been winning awards for her pastels and watercolors for more than 15 years. Jordan typically paints landscapes, often inspired by the wide-open spaces of her seasonal homes in Kansas and New Mexico. She has created a series of landscapes titled "songlines," in homage to the Australian Weltanschauungen described in Bruce Chatwin's book, "The Songlines."
J. Geer Kellas: She is a painter, printmaker and artist whose preferred graphic arts medium is silverpoint. For more than 30 years, she has drawn the seashore of Dauphin Island, one of the barrier islands of the Gulf Coast region. She has a master's degree in painting from the University of Alabama and tallies more than 40 solo art exhibitions. She is represented in private, multinational corporate collections and the collections of the Helen Foresman Spencer Museum of Art at KU and the Fine Arts Museum of the South in Alabama.
Nan Renbarger: A fiber and fabric artist, Renbarger has taught surface design techniques for almost a decade at the Lawrence Arts Center. She describes her work as embracing duality right side and wrong side, inside and outside, bright and quiet colors, textured and smooth surfaces, on-the-wall and off-the-wall constructions. Found objects frequently are used in her knotted, stitched and braided works.
Margaret Rose: She creates assemblages from natural and fabricated objects, which are often old and weather-worn. Chance is a key part of her artistic process because she says "found objects may also become the subject matter, which helps to push the bounds of archetypal imagery." Rose has taught art in public schools for 25 years and exhibited throughout Kansas and Missouri. She has a master's degree in education from KU.
Cathy Tisdale: She creates classic, wheel-thrown, thin-walled pots and large and small sculptural shapes in ceramics. Tisdale has created a series of table-top sculptures based on forest molds and another series based on undersea shells and corals. She uses intensely colored underglazes. Tisdale studied ceramics at the Sierra Nevada College of Ceramics and KU. She exhibits widely in the Midwest.
Copyright 2018 The Lawrence Journal-World. All rights reserved. This material may not be published, broadcast, rewritten or redistributed. We strive to uphold our values for every story published.