Atlanta — Fans of Lisa "Left Eye" Lopes on Saturday mourned the loss of an artist they said had profoundly influenced their lives.
Shirley Martin said she had heard Friday about the death of the rapper from the Grammy-winning trio TLC but was still in disbelief the next day.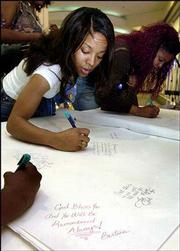 "I don't believe that this is true," Martin, 31, said while signing a giant card for Lopes' family at an Atlanta mall. "I think she's such a beautiful person. She had a beautiful smile, and it's like, how could we lose someone like that?"
Lopes, who made headlines with both her music and personal life, died Thursday in a vehicle crash near Jutiapa, Honduras.
The band's manager, Bill Diggins, was expected to fly Saturday night to Honduras, identify the body and return it today to Atlanta, said Rob Goldstone, publicist for Diggit Entertainment. Goldstone said the funeral probably would be Wednesday or Thursday in Atlanta.
He said Lopes' mother and the other members of TLC Tionne "T-Boz" Watkins and Rozonda "Chilli" Thomas were devastated but have been comforted by thousands of letters and flowers from Lopes' fans and other artists.
Kelly Majid, 36, of Atlanta, said she had especially enjoyed TLC songs such as "Waterfalls," which she said were about "protecting yourself not having unprotected sex or getting into drugs. Just trying to live your life right, and that's what I want for my child."
Rashan Godfrey, a morning show host with the Atlanta radio station that sponsored the card-signing, said she had befriended Lopes while working as her personal assistant from 1998 to 1999.
"Lisa was a very giving person," Godfrey said. "She was very, very smart. I would consider her a genius. She could draw, she could cook, she could make clothes. That was what people didn't know about her what she could do besides rap and fashion."
Copyright 2018 The Associated Press. All rights reserved. This material may not be published, broadcast, rewritten or redistributed. We strive to uphold our values for every story published.