The mother of two Lawrence schoolchildren says she was not amused when a lawmaker replied to her letter of concern about school funding by suggesting the woman send money to a "Tax Me More Fund."
"I wrote a sincere letter and got this back in return," Cindy Yulich said of the response she got from Sen. Kay O'Connor, R-Olathe.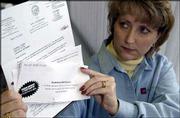 Yulich, whose sons attend Southwest Junior High and Quail Run School, wrote to all 165 Kansas legislators, asking them to consider several options to help public schools.
The state is in the midst of its worst budget crisis in decades falling about $700 million short of paying for everything in a $4.4 billion state budget.
State funding for education, under various budget proposals, would remain relatively flat. That effectively would result in cuts in many school districts because of increased costs. Lawrence schools already have announced layoffs of 65 teachers.
In her letter, Yulich, a senior vice president at Emprise Bank, said lawmakers should consider several options, including raising taxes, re-evaluating the school finance formula or reducing the state ending balance requirement, which would free up money for education.
"Please rest assured that while not raising taxes may appear to be the safe thing to do to assure your re-election, many, many of us will be voting for those who support public education and voting out those who don't," Yulich wrote to lawmakers.
In her reply, O'Connor argued that state government needed better management, not more revenue, and included a packet of material on state spending. She said a tax increase would hurt those who have been recently laid off from their jobs.
In addition, O'Connor provided an envelope addressed to the "Tax Me More Fund," in care of Gov. Bill Graves' office. The fund was established by conservative lawmakers as a tongue-in-cheek response to Graves' proposals to increase taxes.
"If you truly feel the need to give more $$ to the State of Kansas Government, you may use the enclosed envelope. Other taxpayers who are suffering from job losses and increased expenses thank you," O'Connor wrote.
The reply infuriated Yulich.
"The smug tone of your letter is insulting," Yulich wrote O'Connor. "You have elected to place the burden of the entire state budget on the back of the kids in our public K-12 system. They are simply pawns in a very political game."
Friday, O'Connor told the Journal-World she meant no offense, but wanted to emphasize her opposition to a tax increase.
"I can easily apologize because I was not trying to be offensive," she said.
O'Connor responded to Yulich again, this time with an apology. But she didn't change her voting stance.
"Thank you for your critique," O'Connor replied. "By your letter you show you have at least looked at the material I sent you. I am sorry, of course, that we must agree to disagree on this issue. Perhaps we may agree on some other issues."
O'Connor told the Journal-World raising taxes on people who were out of work was "offensive."
"I will be a no vote on any tax increase," she said.
Yulich is not the first Kansan to be offended by O'Connor's manner. In September, O'Connor was quoted in the Kansas City Star as saying she did not support the 19th Amendment to the U.S. Constitution, which gave women the right to vote. The comment, which O'Connor claimed was misunderstood, riled many Kansans, including fellow Republicans, and prompted a recall effort.
Copyright 2018 The Lawrence Journal-World. All rights reserved. This material may not be published, broadcast, rewritten or redistributed. We strive to uphold our values for every story published.