Money is not literally growing on trees in Lawrence, but a recently released survey suggests consumers have no shortage of places to turn to when seeking a loan.
The annual survey of the Douglas County banking market, as conducted by RMS Information Services, shows that 279 different financial institutions made at least one mortgage loan in the county during 2001.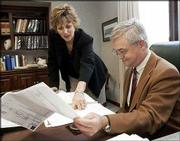 That number even surprised some in the Lawrence banking business.
"I have to say that it is a surprisingly high number, but it doesn't surprise me that the number is large," said Mark Gonzales, community bank president for Commerce Bank. "Lawrence draws a lot of interest from lenders."
The high number and high interest should make consumers rejoice, many in the industry said this week.
"With that many lenders in the market, it makes everybody be very competitive with their rates and fees," said Todd Sutherland, president of University National Bank. "If you're not competitive, you won't win their business in this market. I think it is very positive for consumers.
"And I think it has helped fuel our community's growth, too. With a lot of people out there making loans, it really helps deals get done."
A different time
But it hasn't always been that way. Sutherland remembers when he and his partners were in the process of starting University National Bank in the late 1980s. They conducted a market study of their own and found that in 1987 there was a total of four banks and three savings and loans, and Sutherland estimates two banks in the community controlled more than 90 percent of all the mortgage loans issued.
Today, according to the FDIC, there are 18 banks, with a total of 42 branches, and four savings and loans, with a total of seven branches, operating in Douglas County as of June 2001.
And as last week's survey indicates, there's another couple of hundred lenders that aren't located within the county but grab a piece of the home mortgage market anyway.
The survey also shows the days of one or two banks dominating the lending market are over. Sutherland's University National Bank ranked first in the dollar amount of mortgages issued but grabbed nowhere close to the 60 to 70 percent market share that was possible during the days before Lawrence's banking boom. Instead, University National captured 13 percent of the mortgage market.
But Sutherland isn't complaining. He said 2001 had been his bank's best mortgage year, more than doubling the bank's previous best year, which was in 1998. And he says the community is better off for the fact that no bank has a stranglehold on the market.
"When you had one or two big lenders in town, it was kind of their way or the highway," Sutherland said. "It is not that way anymore. From what I can see, the rates here in Lawrence are as competitive as anywhere else. We're certainly as competitive as Topeka and Johnson County, and I'm not so sure you could say that 10 years ago."
Commerce's Gonzales said he thought consumers have been able to see a direct savings from the increased competition. He said he thought it may show up some in the rates banks charge but more so in the fees that they charge for loans.
For example, Gonzales said it wasn't so long ago that it was common practice for Lawrence banks to charge an origination fee on all mortgage loans. Sometimes that fee could be as much as one percent of the total loan amount. But today, Gonzales said Lawrence residents could easily find loans that don't charge the fee.
Other bankers say consumers should expect to continue receiving benefits from the competition as well.
| | | |
| --- | --- | --- |
| | | |
| | Top overall mortgage lenders1. University National Bank $88.02 million2. Countrywide Home Loans $85.03 million3. Capitol Federal Savings Bank $56.11 million4. North American Mortgage $45.77 million5. ABN Amro Mortgage Group $28.55 millionTop refinance mortgage lenders1. University National Bank $60.97 million2. Countrywide Home Loans $44.70 million3. Capitol Federal Saving Bank $32.99 million4. Advantage Home Mortgage $23.94 million5. ABN Amro Mortgage Group $21.48 millionTop new home lenders1. Countrywide Home Loans $11.61 million2. University National Bank $9.08 million3. North American Mortgage $5.36 million4. Capitol Federal Savings Bank $5.14 million5. First Savings Bank $3.39 millionTop home equity lenders1. Countrywide Home Loans $7.19 million2. Capitol Federal Savings $6.26 million3. Firstar Bank $4.17 million4. Bank of America $3.76 million5. University National Bank $2.82 millionTop construction loan lenders1. First Federal Savings and Loan $15.78 million2. Mid America Bank FSB $15.27 million3. University National Bank $12.04 million4. Peoples Bank $9.42 million5. Firstar Bank $7.22 millionTop commercial loan lenders1. Firstar Bank $32.75 million2. Central National Bank $17.87 million3. Gold Bank $11.72 million4. Commercial Federal Bank $10.33 million5. Intrust Bank $9.32 million | |
| | | |
"I think more choices should always translate into a good thing for consumers," said Brad Chindamo, community bank president of Central National Bank. "That's just the nature of the free market system."
A crowded market
But the nature of the free market system also is that competition can force some businesses out of business. Some bankers are now openly wondering whether the Lawrence market has gotten to the point of having too many banks for the good of the industry.
"I think the banking market is overbuilt in Lawrence," Sutherland said. "I don't think there's any question about it. I think it will be very hard for all these new banks to come in and have the type of success they want to have. I think starting a new bank today would be very tough."
Sutherland said consumers should care about the overall health of the banking industry because if the market becomes too saturated, it may start having negative effects on consumers.
"The thing you worry about is that the market becomes so diluted that it becomes difficult for any bank to be successful enough to fund their loan growth," Sutherland said. "When that happens it becomes harder to get loans for projects.
"I don't think we're at that point yet, but the concern is we don't get to that point."
Gonzales said the question also was on his mind, though he doesn't think the Lawrence banking market is in any immediate peril.
"We do have a lot of banks," Gonzales said. "Are we overbuilt? I don't know. It still seems like it is healthy competition, so I think it is still good for Lawrence. But on the other hand, we're all competing for the same dollars and the bottom line is we have to make money. Banking is not a not-for-profit business."
But Chindamo said he thought even with the large number of banks in Lawrence they all should able to profit because each will try to carve out its own niche in the market.
"Ultimately I'll be surprised if the Lawrence economy doesn't thrive enough to support all these banks," Chindamo said. "There may be some consolidation in the industry in the future, but I don't think it will be because they'll have to consolidate.
"So I guess I'm not sure we're overbanked, but I know for some that may be a stretch to believe when you are driving down the road and see all the new ones being built."
Copyright 2018 The Lawrence Journal-World. All rights reserved. This material may not be published, broadcast, rewritten or redistributed. We strive to uphold our values for every story published.