Lawrence painter Paul Penny's mother was one of the artistic few who in the 1960s helped jump-start an art show that's since become a Lawrence tradition.
Years later, Penny now gathers his own paintings of familiar Lawrence landmarks and landscapes and totes them to South Park each spring for Art in the Park.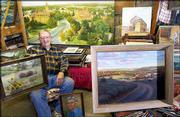 "It's a good place to meet a lot of people that you don't see all the time that are around town and into art," said Penny, 76. "It's kind of a social affair for me."
Whether it's the allure of the social scene, the mild spring weather or fine art for sale, Art in the Park draws 8,000 to 10,000 people to South Park each year.
The 2002 festival will be from noon to 5 p.m. May 5, with a rain date of May 12.
Seventy artists will display and sell fine art in a variety of media, from painting, drawing and photography to sculpture and functional ceramics.
Art in the Park sprung from the desire of a small group of artistic folks who wanted to start an art group and have an art show, said Karen Woolery, Lawrence Art Guild co-president. They went door-to-door back in the early '60s searching for others willing to share in their vision.
By 1963, more than 100 artists were selling their work in the Lawrence Arts Festival, and the Lawrence Art Guild became an official group. In 1964, the festival moved to South Park and changed its name to Art in the Park.
The guild voted in 1981 to make Art in the Park a juried show to raise its professionalism, Woolery said. Work from kits, molds, patterns or books was no longer eligible.
In addition to artwork, Art in the Park features musical entertainment, children's activities and an array of food.
Elaine Matt, co-president of the guild, said the festival seemed for many to be the unofficial start of spring.
"It's kind of a spring kickoff," she said. "It's like everybody comes out of the walls for an event. Winter's over and people are out enjoying the park."
Copyright 2018 The Lawrence Journal-World. All rights reserved. This material may not be published, broadcast, rewritten or redistributed. We strive to uphold our values for every story published.