Workers at a south Lawrence production plant are doing their part to help fight America's war on terrorism.
About 25 people in Cottonwood Inc.'s Work Services program spend their 40-hour work weeks sewing, labeling and packaging the tie-down straps that U.S. soldiers all over the world use to secure cargo for transportation.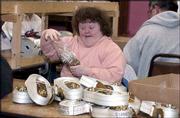 They've been doing it for 2 1/2 years as part of a five-year, $20 million contract with the U.S. Defense Department. But they've been busier than ever since September's terrorist attacks on the East Coast.
"We got a call the afternoon of Sept. 11," said J.R. Condra, director of Work Services. "We were informed we better start gearing up."
Demand for the straps doubled immediately.
"It went from extremely slow to extremely fast-paced," Condra said. "We received more orders in one day than we typically receive in one month."
But the employees' accuracy has not suffered. In fact, the Defense Department recently recognized Cottonwood for consistently providing extraordinary customer support, superior product quality and on-time delivery.
It's just one achievement that Cottonwood, a nonprofit organization that provides residential, employment and community support for about 460 people with developmental disabilities in Douglas and Jefferson counties, is highlighting this year as it celebrates its 30th anniversary.
Expanding services
In order for Cottonwood to accommodate the Defense Department contract, it had to grow. A 19,000-square-foot, $1.9 million addition to the agency's facilities at 2801 W. 31st St., completed in 2000, provided enough extra space to produce and store the 62,500-cargo-strap inventory the center must have on hand at all times.
It also allowed Cottonwood to add other services, such as a more comprehensive health clinic for its clients, an addition Cottonwood officials say reflects part of a service shift driven by a changing client population and the greater expectations of their families.
"The biggest change over time has been choice," said executive director Sharon Spratt, who added that the center adjusts its level of support based on the clients' needs.
Those needs have changed through the years as institutionalization has become less common and Cottonwood has served people with more severe disabilities, Spratt said. In addition, the disabled population has aged, creating demand for more hands-on care.
"One of our greatest challenges is the need for direct care workers," Spratt said. "It's kind of a national problem. It's really becoming a crisis."
It's difficult, Cottonwood officials say, to convince people to take a high-stress job that doesn't pay all that well, despite its many rewards. But applications for direct care worker positions have increased from 30 percent to 40 percent since Cottonwood began running an advertising campaign to recruit people for the positions, said Peggy Wallert, director of community relations and development.
Reaching the community
Cottonwood is hoping to spark more interest and understanding among members of the community during its 30th anniversary celebration.
Lunch Bunch tours from 12:30 p.m. to 1:30 p.m. on the last Thursday of several months this year will introduce residents to Cottonwood's facilities and the services the agency provides. Spots should be reserved in advance for the tours, which are limited to 30 people. The next tour will be May 30.
Next week, Cottonwood will honor individuals with disabilities, staff, community employers and others who have contributed to the agency's 30 years of success. Cottonwood Classies, the agency's first awards ceremony, will be from 7 p.m. to 9 p.m. Tuesday at Crafton-Preyer Theatre in Kansas University's Murphy Hall.
Sense of pride
Cottonwood's Work Services program employs people with disabilities to work on projects outside the Defense Department contract as well. Some workers put together pet product kits that are sent to animal shelters across the country. Others assemble aquarium kits and medical test kits.
"There's someone who's always looking for contracts," Wallert said. "This is truly a business; it's not a charity."
When Cottonwood was negotiating with the Defense Department, Condra said government officials expressed some concern about entrusting such a substantial contract to workers with disabilities.
"They said, 'Can we put that much responsibility on these people?'" Condra said. "So far, in 2 1/2 years, we've had no quality problems. That's probably 600,000 or 700,000 straps."
Cottonwood officials are proud of the quality work being done at their facility. And the people doing the work are proud, too.
"They are doing their part," Wallert said.
Copyright 2018 The Lawrence Journal-World. All rights reserved. This material may not be published, broadcast, rewritten or redistributed. We strive to uphold our values for every story published.