Motegi, Japan — Bruno Junqueira had the speed to win the Bridgestone Potenza 500. Yet it was patience that paid off for the Brazilian driver.
Junqueira, who had the fastest time in practice and started from the pole, used outstanding pit strategy Saturday to claim his second career CART FedEx championship series win.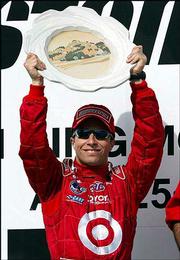 "The car was good from when we started running Thursday," Junqueira said. "I knew that Tony (Kanaan) and Paul (Tracy) led early, but I also knew it would be a long race and I just tried to be patient."
Junqueira, driving a Toyota-powered Lola, took the lead for good four laps from the finish of the 201-lap race at the 1.5-mile Motegi oval, north of Tokyo, and crossed the finish line with a total time of 2 hours, 5.882 seconds.
Canada's Alex Tagliani held a brief lead after 162 laps but went in for a pit stop on the 169th lap and had to settle for second, 12.282 seconds back in his Ford-Cosworth Reynard. Scotland's Dario Franchitti was third in a Honda-Reynard.
Junqueira made his final pit stop on the 190th lap. Franchitti took a brief lead, but lost it when he made his final pit stop on the 197th lap.
"I just pitted too close to the end," Franchitti said. "We were hoping for another yellow, but it didn't work out that way and that's the way it goes."
The victory was the first for Toyota at the Honda-built oval, which opened in 1998.
"I'm happy to get the win for Toyota in Japan and I'm happy for myself," said Junqueira, whose first CART victory came at Road America last year. "When I won at Elkhart Lake last year, I thought that was my best experience but this feels even better."
American Michael Andretti, who won the Toyota Grand Prix of Long Beach two weeks ago, was forced to pull out after 115 laps due to mechanical problems. Defending champion Kenny Brack of Sweden dropped out after 101 laps because of engine trouble.
"The car was good today so I'm really disappointed," Andretti said. "I don't know what happened with the rear wing but I knew right away something was not right. What makes this even more disappointing was my Honda engine was awesome today."
Paul Tracy, who was third after Friday's qualifying session, led early but was forced to drop out of the race on the 84th lap. As he entered pit lane, the front right wheel of his Honda-powered Lola was flat and sparks were seen under his car.
Tony Kanaan, who started the race in the front row with compatriot Junqueira, battled with Tracy for the early lead but dropped out after 121 laps with mechanical problems.
With Junqueira leading, American Townsend Bell lost control of his Toyota-powered Reynard on the 136th lap and smashed into the wall resulting in the day's third yellow flag. Bell suffered minor cuts and bruises on both knees.
Copyright 2018 The Associated Press. All rights reserved. This material may not be published, broadcast, rewritten or redistributed. We strive to uphold our values for every story published.