FONTANA, Calif. — Rookie Scott Riggs started last and finished first Saturday in the Auto Club 300 Busch Series race at California Speedway.
Riggs, sent to the rear of the 43-car field after his team was forced to change the engine in his ppc Racing Ford, moved steadily to the front as Jack Sprague and Greg Biffle battled at the front.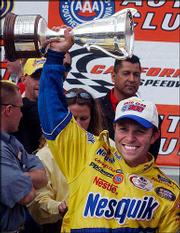 Riggs took the lead from Sprague, the series points leader, 49 laps from the end and held off former series champion Jeff Green to win for the second time in the last three races.
The winner gave a lot of the credit for his victory to crew chief Harold Holly, saying, "Harold said, 'Don't worry about it. Just be patient and we'll make our way to the front.' That's exactly what happened.
"Harold made good calls and we had awesome pit stops. I gained about four positions every time we stopped. We just tried to be patient and march our way to the front."
Riggs finally took the lead on lap 102 of the 150-lap event and stayed there the rest of the way, taking two tires on his last pit stop to retain his track position.
After Chad Chaffin hit the wall on lap 141, NASCAR brought out the red flag for 6 minutes, 40 seconds to give the safety crew time to get the track cleaned up and allow the race to finish under green.
On the restart on lap 145, Green, now a regular in the Winston Cup Series, was able to pulled alongside the leader but couldn't get past.
"It almost got away from me on that restart," Riggs said.
Copyright 2017 The Associated Press. All rights reserved. This material may not be published, broadcast, rewritten or redistributed. We strive to uphold our values for every story published.