New York — With the start of May sweeps today, the networks as usual have supercharged their lineups with their most competitive, irresistible fare.
But more than ever before, it will take the form of reunion specials and anniversary salutes in other words, old stuff masquerading as new.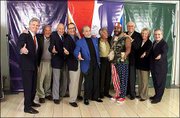 This kind of tribute is easy and cheap, and it doubles as a puff piece for the network that mounts it.
Meanwhile, it reassures its audience. After all, our past commingles with old TV shows. Their stars, we suppose, share that past with us. To celebrate these programs is to certify ourselves.
Even so, this month we'd best watch our step down Memory Lane. The traffic is bumper-to-bumper with reruns.
The way was paved in November. "'The Carol Burnett Show': Show Stoppers" brought Burnett back with her co-stars from her 1967-78 variety series for an hour of clips and recollections that drew nearly 30 million viewers.
Anything goes
Demonstrating a reawakened craving for nostalgia TV, the success of this special (which CBS will repeat at 7 p.m. Friday) has had networks plundering their film vaults like rediscovered ancient tombs.
Is anything too dumb or worthless to disinter? No, judging by "'That's Incredible!': The Reunion" (ABC, May 21), which reunites John Davidson, Cathy Lee Crosby and Fran Tarkenton with the series that, in the early 1980s, pioneered reality television at its skankiest.
And look out for "Laverne & Shirley Together Again" (ABC, May 7), an absurd enterprise if only because, on a May night seven years ago (which already was a dozen years after the hit sitcom ended), ABC presented its first "Laverne & Shirley Reunion."
We might wonder, what sort of breakthrough has occurred since 1995? Did someone unearth more hilarious outtakes? Did co-stars Penny Marshall and Cindy Williams recall more behind-the-scenes anecdotes?
We'll have to wait and see. This program was unavailable for review. So was the reunion special for "The Mary Tyler Moore Show" (CBS, May 13), though, even sight unseen, it's a much better bet.
Other specials will aim to justify themselves by marking some sort of milestone, however gratuitous.
For instance, "Everybody Loves Raymond: The First Six Years" (CBS, April 28).
Then come golden anniversary tributes to "American Bandstand" (ABC, May 3) and "The Honeymooners" (CBS, May 6).
NBC, reaching back even before television to its first radio transmission in 1926, is mounting the month's most extravagant retrospective with "The NBC 75th Anniversary Special," a live, star-studded infomercial with co-hosts Bill Cosby, Tom Brokaw, Kelsey Grammer and Jerry Seinfeld airing May 5.
Other NBC observances include: A prime-time special marking Jay Leno's 10th anniversary as host of "The Tonight Show" (April 30); "Bob Hope's Funniest Outtakes" (April 30); "NBC's Funniest Outtakes" (May 14); a "Cosby Show" retrospective (May 19); "20 Years of Must-See TV" (May 20); "The Most Outrageous Game Show Moments" (May 22).
Plus something a little different: a reunion special in dramatic form. "'L.A. Law': The Movie" (May 12) will revisit the go-go-'80s law firm of McKenzie, Brackman a decade after "L.A. Law" adjourned.
From Television City
Of all the month's time trips, "CBS: 50 Years From Television City" seems among the most promising.
Airing at 7 p.m. Saturday, this three-hour special balances self-promotion with a bit of genuine history as it focuses on the network's West Coast production center, which, since November 1952, has occasioned the familiar kickoff line on so many broadcasts: "From Television City in Hollywood ...!"
George Washington never slept there, but, originally billed as "a multimillion-dollar TV temple" and built to withstand an atomic blast, Television City has housed Danny Kaye, Judy Garland, Red Skelton and Sonny & Cher among many others, and such series as "Playhouse 90" and "All in the Family" down to today's "The Young and the Restless" and "The New Price is Right."
Copyright 2018 The Associated Press. All rights reserved. This material may not be published, broadcast, rewritten or redistributed. We strive to uphold our values for every story published.