Kansas radio stations are likely to give up broadcasting on the Internet if they're forced to pay the thousands of dollars in royalty fees that federal officials are proposing.
"They'll shut down," said Scott Donovan, chairman of the Kansas Association of Broadcasters. "A few might stay on a handful, maybe but most will just say forget it."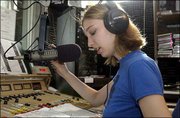 The fees, recommended in February by the U.S. Copyright Office, result from a long-standing dispute between so-called Webcasters and the music recording industry.
In Lawrence, commercial stations KLZR-FM and KLWN-AM, Kansas University's public station KANU, and the university's student-run KJHK all broadcast on the Internet.
"I figure it would cost us about $4,500 a year," said Gary Hawke, a KU journalism instructor and general manager at KJHK. "We could probably pay it, but it's totally unwarranted. It's ridiculous."
Hank Booth, general manager at KLZR and KLWN, said he hadn't bothered to figure out the fees' potential toll on the stations' bottom line.
"I don't know how this will affect us," Booth said. "But it'll all come down to whether (Webcasting) remains profitable, because if it doesn't, it won't continue. That's just the way it is."
Booth said the fee controversy would not interfere with KLZR's broadcasting KU football and basketball games on the Internet.
Pay per song
A panel commissioned by the U.S. Copyright Office proposed the fees after seven months of hearings aimed at resolving a four-year-old dispute between Webcasters and record companies.
The record companies insist they're entitled to royalty payments; Webcasters say they aren't.
The panel sided with the record companies, though the proposed fees were less than those proposed by the companies.
The librarian of Congress has until May 21 to ratify the panel's recommendations. The copyright office is a division of the U.S. Library of Congress.
If approved, commercial stations would be expected to pay 0.076 cents per song, per Internet listener. Noncommercial stations would have to pay 0.021 cents per song, per listener.
Internet-only broadcasters would have to pay 0.152 cents per song, per listener.
The recommendations include making the fees retroactive to 1998.
The fees would be in addition to the fees radio stations already pay the ASCAP, BMI and SESCAC, groups representing the interests of songwriters and publishers.
This year, KJHK, for example, expects to pay ASCAP, BMI and SESCAC between $250 and $500.
"I don't object to reasonable fees; I'm all for everybody getting their fair share," Hawke said. "But it doesn't make sense for us pay $500 and be able to play as much music as we want for as many people as we can reach, and then have to pay $4,500 to reach 25 people on the Internet."
KJHK's Internet server can accommodate up to 25 simultaneous listeners, Hawke said. KANU's server can handle 100.
Booth said he didn't know how many listeners KLWN and KLZR's server could handle. "But it's a higher number (than 100)," he said.
KLWN and KLZR reach about 50,000 listeners a week, Booth said. KJHK and KANU reach about 15,000 and 76,000 listeners, respectively.
The Kansas Association of Broadcasters does not keep track of how many of its 188 member radio stations broadcast on the Internet.
"I doubt it's more than 10 percent," said the association's Donovan.
Buying time
So far, KANU has not been affected by the controversy, said Darrell Brogdon, the station's program director.
"We're fortunate in that the Corporation for Public Broadcasting has negotiated an agreement with the RIAA (Recording Industry Association of America) that, for us, puts this off through 2004," Brogdon said. "So we're waiting to see what happens."
Brogdon and Hawke said KANU's and KJHK's Webcasts were in keeping with their stations' mission to serve their listeners.
"Public radio isn't a big player in this," Brogdon said, "but we know that public listeners are big computer users. So if the service is there, we try to provide it."
KJHK is nationally recognized as the first radio station to establish a full-time programming presence on the Internet.
Much of the broadcast industry, Hawke said, thinks the fight about Internet fees stemmed from record companies' wanting to recoup some of the money lost to Napster, a computer program that allowed users to share music over the Internet. A federal judge shut down Napster last year.
"Record companies lost a zillion dollars to Napster," Hawke said. "But I've never understood why it took so long to get a ruling that Napster was illegal. It seemed like a no-brainer to me."
Many noncommercial stations college stations, especially have suspended their Internet broadcasts rather than risk adding to what they might be ordered to pay retroactively.
That's not the case at KJHK.
"We'll continue to stream on the Internet and hope that rational minds prevail," Hawke said.
Copyright 2018 The Lawrence Journal-World. All rights reserved. This material may not be published, broadcast, rewritten or redistributed. We strive to uphold our values for every story published.