Unlike a bumper crop of, say, zucchini, there's no such thing as too much asparagus. The first fresh, green stalks of spring seem so precious. Asparagus lovers think they can never get enough.
But after two or three meals maybe four of steamed spears simply dressed with butter and lemon, even purists seem willing to relax and branch out a bit.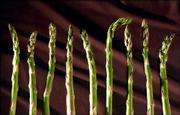 So we stir-fry it with sesame oil and soy sauce as a side dish for grilled chicken or salmon. We throw extravagant handfuls of cooked, chopped spears into fritattas, souffles and risottos. We grill it alongside steaks or lamb kabobs. And we puree it into creamy, pale green soups.
We cook it in every imaginable way and it's always wonderful.
But if you've never tried roasting it, you're missing something deeply delectable.
"Like all vegetables, when you roast asparagus, you lose a lot of water. That makes them look less attractive, but it has the effect of concentrating the flavors," said Andrea Chesman, author of "The Roasted Vegetable" (Harvard Common Press, $12.95). "And although asparagus isn't really a sugar-rich vegetable, it does have sugar, which caramelizes, and the flavor is delicious."
Bigger flavor
To cooks who've seen the awful outcome of overcooking the delicate vegetable, the idea of subjecting its tender shoots to a 450-degree oven may sound unthinkable.
But the flavor becomes bigger, rounder and sweeter. The grass-green color turns richer, burnished with streaks of bronze. And the texture although not as crisp is tender and medium-firm.
The tradeoff is appearance.
Like other roasted vegetables, the spears shrink there's less water, after all and become slightly wrinkled.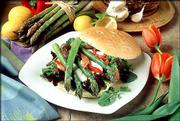 "It's really not as good-looking as when you steam it," Chesman said.
But it's still delicious, roasted and drizzled with balsamic vinegar or lemon juice and sprinkled with a little coarse sea salt at the table. And when it's combined with other ingredients, the robust character more than makes up for the less pristine look.
Add roasted asparagus to cooked pasta dishes and to rice or pasta salads. Dress it with a flavorful vinaigrette and toss it with other vegetables for a side dish. It's great on pizza especially one topped with goat cheese. And it will surprise you in a sturdy focaccia sandwich; try it in combination with garlic aioli, roasted red pepper, bacon, fresh mozzarella and spring greens. (That recipe and others are above.)
Get ready to roast
The basic asparagus-roasting technique is easy:
Preheat the oven to 450 degrees. Wash and trim asparagus spears as you would for streaming: Snap off the tough end and, if you prefer, use a vegetable peeler to thinly shave some of the skin off the sides near the bottom.
Spread the spears on a large rimmed baking sheet; use two pans, if necessary, to avoid crowding them, or they'll steam instead of roast.
Drizzle them very lightly with extra-virgin olive oil and roll them around to coat lightly but completely. Roast medium-thick spears about 15 minutes, thin ones about 11 minutes, occasionally shaking the pan to roll them around for even browning.
Test with a fork to determine doneness.
"They're done when they're tender throughout and lightly browned or deeply browned, but not charred," Chesman said. "You don't want to blacken vegetables; they get nasty when they're charred."
If your recipe calls for coating asparagus with something besides oil say, a lemon vinaigrette before roasting, Chesman suggests lowering the temperature to 400 degrees to reduce the risk of burning the marinade and creating off flavors.
But don't worry; roasting is a nearly fool-proof way to prepare this special spring vegetable. And when asparagus is in season, you can afford to experiment a little.
Copyright 2018 The Lawrence Journal-World. All rights reserved. This material may not be published, broadcast, rewritten or redistributed. We strive to uphold our values for every story published.