Douglas County commissioners don't want to wait until a public meeting to get their questions answered about the future of U.S. Highway 59 between Lawrence and Ottawa.
Commissioners are pushing for a meeting with Kansas Department of Transportation officials to discuss KDOT's plans for building a four-lane freeway along one of two paths: either 300 feet east of the existing highway, at a 2007 cost of $210.3 million, or a full mile to the east, with a 2007 cost of $199.4 million.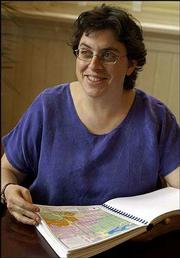 Commissioners would prefer not to wait until April 30 when KDOT officials will convene a public hearing in Baldwin to accept comment and answer questions because they already know they don't like either of the freeway options proposed.
"It's very frustrating," Commissioner Charles Jones said.
Added Gene Ramsey, Ottawa mayor: "(KDOT) Secretary (Dean) Carlson has asked us for our opinion in the past, but I'm not sure they're listening."
Safer highway needed
Marty Matthews, a KDOT spokesman, said commissioners would get their opportunity during a special preview meeting at 2:30 p.m. April 30. KDOT will have engineers, property experts and others available to answer questions from appointed and elected officials from area governments.
That means county commissioners, city council members and state legislators will get a chance to see the maps, examine the data and query the road officials before the public shows up.
"It's normal procedure on a project like this," Matthews said.
For at least two years, county commissioners have been worried that a new alignment for U.S. 59 could leave the county responsible for financing the repair and care for the existing road.
The existing two-lane highway already is considered among the state's most dangerous stretches of road, with accident rates at least 25 percent higher than along similar highways elsewhere in the state.
"We want an improved and safer U.S. 59. That's what we all want," County Commissioner Bob Johnson said. "What I don't want is another road, running north and south, between Lawrence and Ottawa, that we have to maintain."
Indecision 'cowardly'
Caryn Goldberg, spokesperson for the Franklin-Douglas Counties Coalition of Concerned Citizens, said her group was pushing to have KDOT extend its deadline for accepting public comment.
The public especially farmers busy with the spring planting season need at least 90 days beyond KDOT's May 30 comment deadline to make their arguments for which way the highway project should go, Goldberg said.
Besides, she said, the state's draft environmental impact statement should have chosen a "recommended route" for the project instead of leaving open the possibility for one of two ill-advised freeway alignments.
She considers the state's indecision "cowardly."
"In the end, engineers may choose which of the two routes are better rather than it being a comprehensive, coordinated choice made by public comment, the opinions of officials and that of the many parties affected," she said.
Goldberg's group, which counts 300 people as members, still has hope that the state will decide to rebuild U.S. 59 along its current alignment either as an expressway or "super-two" configuration.
But the state's draft environmental impact statement dismisses such options, saying they neither would solve the highway's accident problems nor accommodate enough traffic, either now or in the future.
"It does not meet the purpose and need of the project in improving safety or improving capacity," Matthews said. "Why would you go ahead and build something that will not do what you need it to do?"
Copyright 2018 The Lawrence Journal-World. All rights reserved. This material may not be published, broadcast, rewritten or redistributed. We strive to uphold our values for every story published.