Bagram, Afghanistan — British troops have launched their first major combat operation of the Afghan conflict, joining U.S. and Afghan soldiers searching the snowcapped peaks of southeastern Afghanistan for al-Qaida and Taliban fighters, coalition officials said Tuesday.
Members of the elite 45 Commando Royal Marines were sent into the area several days ago but their mission was not made public until Tuesday.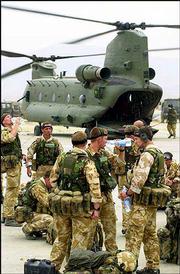 The troops, who are skilled in mountain warfare, are operating at elevations above 9,500 feet, Royal Marines spokesman Lt. Col. Paul Harradine said. He would not specify where the force was deployed, but it was believed they were in rugged terrain south of the capital, Kabul, near the Pakistani border.
U.S. military spokesman Maj. Bryan Hilferty would not say how many American troops were in the area following up on last month's Operation Anaconda a 12-day assault on Taliban and al-Qaida forces in the eastern Shah-e-Kot mountains.
At the Pentagon, Air Force Brig. Gen. John Rosa said the mission, which the British call Operation Ptarmigan after a bird that changes color to blend with the environment, began Monday.
Rosa said the deployment was part of the ongoing effort to destroy al-Qaida and Taliban remnants in southeastern Afghanistan. The U.S. military named the mission Operation Mountain Lion.
Harradine said coalition forces had suffered no casualties so far in the operation but would not say whether there had been any clashes with al-Qaida or the Taliban.
"This is a very specific mission, of which there will be more, to achieve that overall broad objective of dealing with residual Taliban and al-Qaida forces which remain in Afghanistan," Adam Ingram, Britain's minister for the armed forces, told the BBC.
Ingram said capturing al-Qaida leader Osama bin Laden remains a prime objective, although his whereabouts was unknown.
"We've got to operate on the basis that he's still alive, that he may well still be in the country, and if we do obtain knowledge of where he is then clearly we will pursue him with all vigor," Ingram said.
In Kabul, the United Nations announced that over the last seven weeks, a quarter million Afghans have come home from refugee camps in Pakistan, Iran and Tajikistan.
However, U.N. spokesman Yusuf Hassan said millions remain outside the country, waiting to see whether conditions stabilize.
Returning refugees are having trouble finding places to live, especially in the capital. In the countryside, many refugees are arriving to find their houses burned or bombed.
Hassan said 40 percent of those returning are moving into urban centers. Kabul alone has seen 80,000 refugees return, and there is little place for them to live.
Copyright 2018 The Associated Press. All rights reserved. This material may not be published, broadcast, rewritten or redistributed. We strive to uphold our values for every story published.