After operating almost three months with no business, Troy Kreutzer reminds himself often that every business has to have a first day and first year.
But for Kreutzer and Donna Mathena-Menke, funeral directors at Lawrence Funeral Chapel, Sixth Street and Monterey Way, waiting for the first call isn't easy.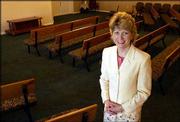 "The waiting is hard," Mathena-Menke said. "But any business goes through that. There are very few businesses that take off from Day One."
The 8,500-square-foot, $1.5 million facility opened its doors Jan. 25 and still is waiting to perform its first funeral service. The waiting isn't entirely unexpected though.
"In our marketing plan, we didn't anticipate a call for the first three months, so as far as our marketing plan goes we're right on target," Mathena-Menke said. "We had hoped it would have been better than that."
Mathena-Menke teamed up with Chris Hutton, owner of Lawrence Hutton Monument Co., to launch the new funeral home. Lawrence Hutton Monuments relocated to the new building from its previous location, 811 E. 23rd St.
Hutton, who owns 10 other funeral homes in northeast Kansas, said he had been watching the death numbers in Lawrence for about 10 years. With an average 400 to 600 deaths a year, he said he believed Lawrence could support another funeral home and jumped at the chance to start the business with Mathena-Menke, who was a funeral director at Brennan-Mathena Funeral Home in Topeka for 20 years. She moved to Lawrence in July 2000.
Warren-McElwain Mortuary is returning to its roots.The company began construction on a satellite funeral home this week on the east side of Eudora, where the mortuary began in 1904.Carl Schubert ran Schubert Funeral Home in Eudora out of a building it shared with a barber shop. T.D. Funk opened Funk Mortuary five years later in Lawrence. In 1953, the two merged to open Cooper-Warren Mortuary, which became Warren Mortuary in 1967 and then Warren-McElwain in 1974.Larry McElwain, owner of Warren-McElwain, said a market for the funeral home eventually will grow because of the growth west from Johnson County and east from Lawrence.The new funeral home, which will occupy 5,500 square feet, is scheduled to open Sept. 1. It will cost $770,000. Lisa Manley will serve as director of the satellite funeral home.
The monument side of the business is doing even better at the new location, Hutton said, and he hopes its business will spur calls to the funeral home. A funeral home, he said, that was much needed because the community only has only two other funeral homes.
Larry McElwain, owner of Warren-McElwain Mortuary, said both Warren-McElwain Mortuary and Rumsey-Yost Funeral Home could adequately serve the community.
"There are not 600 funerals a year in Lawrence," he said. "I don't think there is quite 500 a year in Lawrence. It's definitely less than that."
Neither Warren-McElwain nor Rumsey-Yost are high-volume funeral homes, said Bart Yost, Rumsey-Yost director.
"The two funeral homes in Lawrence combined do less service than one of the funeral homes in Topeka and many in Kansas City," he said.
Lawrence Funeral Chapel's situation is not uncommon for the industry, McElwain said.
"This is a very, very personal business, and it takes time to build," he said.
Mathena-Menke is using her time to network and invest in advertising. She said she still thinks that there is a market for a new funeral home in Lawrence, especially on the west side. She said she and Hutton will not give up on their venture.
"We could go a while," she said. "When we made this commitment, we made this commitment. We're giving it all we got."
Copyright 2018 The Lawrence Journal-World. All rights reserved. This material may not be published, broadcast, rewritten or redistributed. We strive to uphold our values for every story published.