The Lawrence apartment market is growing but is not overbuilt, according to a study of the industry released this week.
The 2001 Survey of the Lawrence Apartment Market, compiled by Lawrence appraiser Tim Keller of Keller & Associates, said the occupancy rate for apartments during much of 2001 averaged at 94 percent and was as high as 97 percent at times.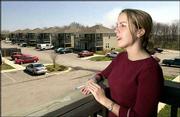 "The occupancy numbers are actually a slight improvement over what we've seen in the past," Keller said. "I think these levels are kind of reflective of a healthy market. The rental market is experiencing healthy growth, but also healthy absorption."
The numbers also suggest the apartment industry rebounded from the mid-'90s when the market was overbuilt, said Kirk McClure, a Kansas University associate professor who studies housing markets across the country.
"Everybody knew that in 1996 and 1997 we were building too many apartments here, but everybody thought the other guy would back out first," McClure said. "They didn't, and consequently vacancy rates were a little high.
"But the industry average is about a 5 percent vacancy rate, and it seems like we're back to hovering around that. That's the good thing about a growing community. If you overbuild, all you have to do is wait awhile."
In 1997, Keller's study showed occupancy rates averaged just below 90 percent. In 1999, the last time the study was conducted, occupancy rates had climbed to 93 percent.
The survey predicts the Lawrence multifamily market, not including duplexes or single-family homes that are rented, will be able to grow about 350 units per year. Keller estimates there are about 600 multifamily units that are in various stages of the planning process, but he does not expect all of those to be built in 2002.
The survey, using Census data, shows Lawrence added about 380 rental units per year during the 1990s. Rental units accounted for 54 percent of Lawrence's total housing stock in 2000 compared to 51 percent in 1990.
How many new units will be built in 2002 is an open question. Lawrence's First Management has begun construction on two major projects, one near Clinton Parkway and Kasold Drive and another just south of Kansas University along 20th Street, that will add several hundred units to the market.
San Antonio-based Callaway Development has announced plans for a 200-unit apartment complex that will be south of Clinton Parkway between Congressional and Inverness drives.
McClure said he thought more projects would follow, in part because the survey confirmed landlords were able continue to command higher prices for rental units.
Keller estimates monthly rental prices, on average, are 10 to 12 percent higher than they were in 1999.
But Barbara Huppee, executive director of the Lawrence-Douglas County Housing Authority, said she thought the addition of several hundred new apartment units may have helped control rental price increases that were becoming problematic in the early '90s.
"I don't know if this market is any more affordable now, but we definitely have more units available and that has shaken through the market," Huppee said.
"The owners of some of the older units aren't in a situation to drive the market like they used to be. Now they are in a position of responding to the market, which means they haven't been able to raise rates as much."
But monthly rates should continue to rise at least at the rate of inflation, McClure said, and other members of the industry said they expected demand for rental units to keep increasing as well.
The survey results were based on responses from 36 percent of the total Lawrence apartment market. Keller asked property managers for essentially all Lawrence apartments of six or more units to voluntarily respond to the survey.
Copyright 2018 The Lawrence Journal-World. All rights reserved. This material may not be published, broadcast, rewritten or redistributed. We strive to uphold our values for every story published.