Lawrence High's Andrea Hemphill and Free State High's Ashley Jackson both won two individual events to lead the city entries at the Free State quadrangular Tuesday at Lawrence Indoor Aquatic Center.
Shawnee Mission Northwest won the meet with 428.5 points. LHS was second at 388. FSHS took third with 274.50 points and SM South finished fourth at 240.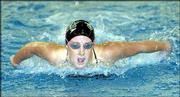 Hemphill, a senior who will swim at the University of Iowa next year, dominated the 200 individual medley in 2:09.68, nearly eight seconds better than the second-place finisher.
"I'm happy with how I did," Hemphill said. "But I'm not at my best right now at this point in the season."
If she's not swimming her best now, her opponents better watch out. She edged teammate Julia Szabo by 3.21 seconds in the 100 butterfly for first place and helped lead Lawrence to victories in the 200 and 400 freestyle relay.
"Andrea's the best swimmer on the team and she is awesome," second-year LHS coach Ryan Adams said. "The other girls, especially the young ones, look up to her and get inspired by her, but we've got some other great swimmers, too."
Szabo, Melissa Little and Sarah Marlow all placed in the top five in two individual events.
Free State's Jackson, a ninth-grader from Southwest Junior High, won the 200 freestyle (1:57.27) and the 500 freestyle (5:10.97). Three other Firebirds had two top-five finishes, too.
"We're strong in distance, middle distance and freestyle," Free State coach Jama Crady said. "We need to get faster sprinting, but we're still a very young team."
Copyright 2018 The Lawrence Journal-World. All rights reserved. This material may not be published, broadcast, rewritten or redistributed. We strive to uphold our values for every story published.