Kansas University's baseball team almost had a brother-vs.-brother pitching matchup Tuesday night against Wichita State at Hoglund Ballpark.
KU coach Bobby Randall considered starting junior Ryan Jakubov on the mound because the Shockers were starting Ryan's younger brother, Mathew.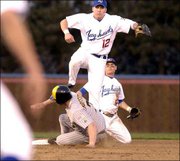 Randall chose freshman Chris Jones as the team's starter though, and it paid off in a 9-1 victory over No. 8 WSU.
"I had a good feeling about him going into the game," Randall said. "I thought Chris did a marvelous job. I can't say enough about him."
Jones threw seven innings in just his second start of the year, striking out five and allowing just one hit.
"My last outing was kind of rough," Jones said, "so I had the attitude that I had nothing to lose. I realized that if I was going to do well, I was going to have to stay within myself. I just wanted to do what I could and let the rest take care of itself."
He held the Shockers (20-8) hitless through 62/3 innings, annoying WSU coach Gene Stephenson.
"We were no-hit through five or six innings by a slow-pitch softball pitcher," Stephenson said. "No disrespect intended, but he don't throw very hard. If he were that good of a pitcher, he would have been pitching a lot for this team. Lord knows they need it.
"They didn't need anything tonight. They kicked our butt."
Kansas (14-15) has needed relief pitching this season, having lost seven games in the late inning. Tom Gorzelanny kept that from happening against the Shockers, though, with two innings of shutout relief.
"I was kind of behind some of those last-inning losses and I told myself a couple of appearances ago to calm down and throw strikes. I brought that in with me against Oral Roberts, Texas and now today. I just think I'm doing a little better than before."
Neither team did well on defense, committing a combined 10 errors.
Kansas committed six errors but kept WSU off the scoreboard by allowing just four hits and leaving 12 Shockers on base.
"That's crazy," Randall said. "Six errors and you win by eight runs, and hold the other team to one. We're playing more fearless, not panicking, just playing the game."
Jones said he didn't let the miscues affect how he performed on the mound.
"As a pitcher, you can't let an error get to your head," he said. "It's just part of the game. It looks bad on the scoreboard to see six errors, but we battled through and I'm happy that it all worked out."
Kansas manufactured three runs in the fourth on two errors, a hit-by-pitch, a balk and a sacrifice to take the lead.
Wichita State scored one run in the top of the fifth, but the Jayhawks answered with two in the bottom of the inning on a sacrifice fly by Kevin Wheeler and a single by Casey Spanish.
Ryan Klocksien and Spanish added run-scoring hits in the seventh inning and defensive replacement Jason Appuhn hit a two-run double in the eighth.
It was Jones' strong pitching, though, that allowed KU to take the lead and hold it.
Notes: The four hits by WSU tied a season-low set Saturday against Bradley. Attendance was 1,623, the fifth highest total at Hoglund Ballpark. The Jayhawks will face the University of Nebraska-Omaha at 5 p.m. today at Hoglund Ballpark.
Kansas 9, Wichita State 1
Wichita State 000 010 000 1 4 4
Kansas 000 320 22x 9 9 6
Chris Jones, Tom Gorzelanny (8) and Cole Armstrong. Mathew Jakubov, Mike Dennison (5), Tommy Hottovy (8), Kyle Banick (9) and Joe Muich, Ryan Owen (7). W Jones (3-1). L Jakubov (0-1).
2B Kansas: Ryan Baty, Jason Appuhn, Ryan Klocksien. 3B Kansas: Matt Tribble, Travis Metcalf.
Kansas highlights Jason Appuhn, 1-1, 2B, 2 RBI; Casey Spanish, 2-3, 2 RBI.
Copyright 2018 The Lawrence Journal-World. All rights reserved. This material may not be published, broadcast, rewritten or redistributed. We strive to uphold our values for every story published.