Hours after suffering a close loss to defending Class 6A state champion Olathe East on Tuesday, Free State High coach Jason Pendleton learned of his team's biggest setback that senior co-captain Kelsey Mellard is out for the remainder of the season with a broken right tibia.
"The injury will require surgery (today), and she will miss the rest of the season," said Pendleton of his defensive star, who will have a steel rod inserted in her leg to ensure that the bone heals properly and quickly. "She'll be out for a couple of months, but the doctor expects a full recovery."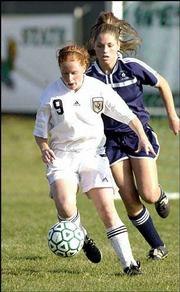 That is the good news for Mellard, who has signed to play at Morehead State in Minnesota next season.
Yet, even without their top defensive player the Firebirds (2-3) didn't fold Tuesday, as they nearly tied the Hawks (5-0-1) before losing, 2-1, at FSHS.
"Losing her, I was kind of afraid at that point that the wheels were going to fall off," said Pendleton of Mellard, who went out midway through the first half with FSHS already trailing, 2-0, when her right shin collided with the left leg of an Olathe East player.
"But the girls seemed to rally around that and battled really strong."
But the Hawks' two-goal cushion proved to be too much.
"Just in terms of desire and fitness and all those things, they are the epitome of the best in high school soccer in Kansas," Pendleton said. "We knew coming in we weren't going to get a lot of opportunities, but we had talked about making the most of our opportunities when we got them."
The Firebirds pulled within 2-1 with 21:35 remaining in the game when Jessica Heck pounded in a loose ball in the goal box off of Michelle Garcia's deflected corner kick.
"The big thing for us against teams like this is to leave it all on the field for 80 minutes," Pendleton said. "We feel positive about some of our things and hopefully can transfer that in to our next game."
Copyright 2018 The Lawrence Journal-World. All rights reserved. This material may not be published, broadcast, rewritten or redistributed. We strive to uphold our values for every story published.