JENIN, West Bank — Palestinians ambushed Israeli troops in the cramped quarters of a West Bank refugee camp Tuesday, setting off a suicide bomb trap in a narrow alley and firing on soldiers in a courtyard, the military said. Thirteen Israelis were killed, the biggest blow to the army in its West Bank offensive.
The carefully planned double attack in the Jenin refugee camp also wounded nine Israeli soldiers. A military spokesman said a rapid series of blasts went off in the alley one of them detonated by a suicide bomber and collapsed part of a building on several soldiers.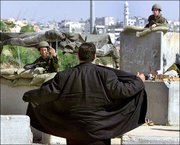 Defying U.S. demands that Israel's 12-day-old campaign wrap up without delay, Prime Minister Ariel Sharon vowed "Operation Defensive Shield" will go on until it fulfills its mission "the destruction of the infrastructure of the terror groups."
"This is a battle for survival of the Jewish people, for survival of the state of Israel," Sharon said on Israel TV.
There were signs, however, that U.S. efforts were having an effect. Earlier Tuesday, Israel pulled out of Tulkarem and Qalqiliya, two of six Palestinian towns it has occupied; troops remained in Nablus, Bethlehem, Jenin and Ramallah and several villages.
Secretary of State Colin Powell, due to arrive late Thursday in Israel, said he was optimistic his mission could bring a truce and lead to negotiations. Speaking in Cairo, Powell said he would meet Palestinian leader Yasser Arafat as well as Sharon and said the United States was willing to deploy observers to monitor any cease-fire.
Israel had said it would keep Arafat isolated in the Ramallah offices where he has been confined by troops since the West Bank campaign began. But Israeli officials said Tuesday that they would not prevent Powell from meeting the Palestinian leader.
Israel launched its offensive on March 29 to crush militias after a series of Palestinian suicide bombings. At least 124 Palestinians and 25 Israeli soldiers have been confirmed killed during the incursion, according to Palestinian medics and the Israeli army. The toll was expected to rise; there were reports that dead Palestinians had not been brought out of some areas, especially in the Jenin camp.
Aside from the deaths in Jenin camp, an Israeli soldier was killed Tuesday in the city of Nablus, though the military said it may have been by errant Israeli fire.
The Jenin camp in the northern West Bank, home to more than 13,000 Palestinians, has been the site of the most intense fighting of the Israeli assault, with gunmen inside battling Israeli soldiers for the past week. All but three of Israel's casualties in the campaign have occurred in the camp.
By Tuesday, several hundred gunmen had been pushed into a small area of the camp, with Israeli helicopter gunships providing heavy cover fire for ground troops, witnesses said.
Camp resident Jamal Abdel Salam, an activist in the Islamic militant Hamas group, said the gunmen told him "they said they prefer death to surrender."
Israeli officials said the decision was made to pull out of Qalqiliya and Tulkarem which remained encircled by Israeli troops after President Bush sharply called on Israel to end its offensive. Powell said he hoped the withdrawal early Tuesday was "the beginning of the end" of the spiraling violence.
But Sharon's comments suggested an end would not come quickly. Defense Minister Binyamin Ben-Eliezer said the West Bank assault has "dealt a heavy blow to the terrorist infrastructure."
The army says it detained 1,600 Palestinians of whom 84 were wanted suspects and seized more than 1,300 assault rifles, 387 sniper rifles, 49 anti-tank grenades, 256 machine guns, 58 bombs and 65 pounds of explosives. It also says it found 11 explosives laboratories.
However, Palestinian officials said the bruising assault has also battered the Palestinian security apparatus which Israel holds responsible for controlling radical groups.
"The Israeli occupation forces have destroyed everything related to the Palestinian security services (and) have arrested the Palestinian policemen and security personnel," said Parliament Speaker Ahmed Qureia.
Copyright 2018 The Associated Press. All rights reserved. This material may not be published, broadcast, rewritten or redistributed. We strive to uphold our values for every story published.