Bamiyan, Afghanistan — A year after the Taliban blew up two towering ancient Buddha statues, Afghan leader Hamid Karzai promised Tuesday to rebuild them, calling their destruction "a national tragedy."
Funding the project will be no small task for this nation's bankrupt administration. But the interim prime minister said rebuilding the statues was part of reconstructing Afghanistan, a nation devastated by war for more than two decades.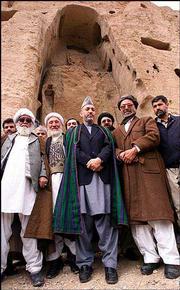 "The loss of life is something irreparable. You cannot repair that," Karzai said during a five-hour visit to Bamiyan, where the statues are located. "But we're going to work on this, and we hope we can have it rebuilt as soon as possible."
Karzai said an Afghan sculptor, who returned home this month after fleeing 23 years ago, presented him with a design to reconstruct the sculptures within five years.
Karzai toured the two statues in a convoy with Afghan troops, many of whom also stood guard along dusty roads and hillsides about 85 miles northwest of the capital, Kabul.
"It's very sad," Karzai said, peering up at the ruins. "For Afghanistan, it's a national tragedy."
It was unclear where the money to rebuild the statues would come from, or when the project might begin.
Karzai said his administration had contacted the U.N. Educational, Scientific and Cultural Organization for help. The Paris-based UNESCO is responsible for safeguarding the world's cultural heritage.
The original 175-foot Buddha statue and a smaller 114-foot one were carved 1,500 years ago into a cliff overlooking Bamiyan, a town on the ancient Silk Route linking Europe and Central Asia.
The fundamentalist Taliban considered the statues "idolatrous" and against the tenets of Islam, so the militia dynamited them a year ago despite an international outcry.
Afghan sculptor Amanulah Haiderzad said the government might rebuild only the larger Buddha and keep the remnants of smaller one as a monument to the Taliban's barbarity.
Karzai's visit also was significant for the Hazaras, an ethnic minority who comprise 10 percent of Afghanistan's population but are a majority in Bamiyan. As followers of Islam's Shiite branch, they also are a religious minority.
Three mass graves believed to be filled with the bodies of Hazaras killed by the Taliban were discovered recently in Bamiyan.
Karzai promised his administration would do all it could to protect Afghanistan's minorities, including the Hazaras.
Copyright 2018 The Associated Press. All rights reserved. This material may not be published, broadcast, rewritten or redistributed. We strive to uphold our values for every story published.