There were two main concerns that Haskell Indian Nations University football coach Graham Snelding worried about going into Saturday's game against Southern Nazarene: stopping a strong running game and avoiding costly penalties.
Saturday Snelding's anxieties came to life as Crimson Storm running back Jason Kilmer ran for a 115 yards and two touchdowns, and HINU accumulated 105 penalty yards in a 33-7 loss at Haskell Stadium.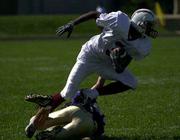 "Yeah, we didn't do those things, but we didn't get any of our punts blocked," Snelding said, jokingly referring to his special team's play of recent weeks. "I think we improved in areas but not overall."
There were a few times Saturday that HINU's special team's play nearly blew up in its face, yet it was the Crimson Storm creating most of the headaches for the Indians (0-5).
On its first drive, SNU (Bethany, Okla.) mixed its running and passing attack evenly on a 10-play drive that ended on quarterback's Jarod Graham's 10-yard touchdown scramble.
Haskell responded with what would be its best drive until late in the game, but the Indians turned the ball over on downs deep in SNU territory.
Then it was Kilmer's turn.
The 6-foot, 205-pound running back who rushed for more than 1,300 yards last season found his groove.
After gaining 47 yards on six carries, Kilmer took a pitch near the right sideline for a 30-yard touchdown jolt. SNU was flagged for its second excessive celebration penalty and missed a second long extra point, but the Storm still led 12-0.
Despite the deficit and an offense that managed no passing yards in first half, Snelding felt his team was in good shape.
That was, until 13 seconds before the half ended, when SNU third-string-quarterback, Andrew Linn, tossed a drifting ball to the corner of the end zone which Justin McClaren caught for a 21-yard touchdown on the fourth-and-10 play.
"That was deflating," Snelding said. "The kid made a great play."
McClaren's leaping grab over two HINU defenders seemed to take all the spark out of Haskell, which had 85 yards in first-half penalties.
However, Snelding said it was SNU that was playing dirty Saturday.
"I didn't think they had any class," said a frustrated Snelding.
But it was Haskell that had four personal foul calls in the first half and Wes Breedlove was ejected on SNU's last drive.
Little changed after intermission as SNU's kept control.
Haskell which started the season as a passing team with a wide-open offense was packed in on the line like a can of sardines, allowing SNU's defense to key against the run.
After another Kilmer touchdown, which increased SNU's lead to 27-0, the Crimson Storm got another big play from McClaren.
The receiver recovered a fumble in the end zone for a touchdown after Aric Gilliland broke off a 44 run before being stripped near the 7-yard line by Haskell's Brett Blythe.
Haskell, which had 160 yards offensively compared to SNU's 449, did manage a late scoring drive, as freshman quarterback Peter Hahn led a 17-play, 63-yard march capped by Robby Sowards 1-yard run.
"We tried to spread it out, but their defense was really fast," Hahn said. "We didn't play under control today."
Sowards said the Indians need to find some inspiration.
"We're 0-5, we have to start right now," he said. "We have to get a win. Here's where we have to step it up and put everything together and play with our hearts."
SNU 33, Haskell 7
SNU (2-2) 6 14 13 0 33
Haskell (0-5) 0 0 0 7 7
First Quarter
SNU Jarod Graham 10 run (Chris Bogle kick failed).
Second Quarter
SNU Jason Kilmer 33 run (Bogle kick failed).
SNU Justin McClaren 21 pass from Andrew LInn (Blake Tallaferro pass from LInn).
Third Quarter
SNU Kilmer 3 run (Bogle kick).
SNU McClaren 7 yard fumble recovery (Bogle kick failed).
Fourth Quarter
HINU Robby Sowards 1 run (Scott Giroux kick).
Copyright 2018 The Lawrence Journal-World. All rights reserved. This material may not be published, broadcast, rewritten or redistributed. We strive to uphold our values for every story published.