Grafton, Mass. — An increasing number of pet owners think they have pinpointed the right treatment for their dogs' and cats' aches and pains: acupuncture.
They are turning to the ancient Chinese therapy for such pet ailments as allergies, arthritis and chronic pain.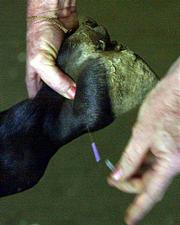 "They find it useful for themselves, so they want the same treatment for their pets," said Mary Rose Paradis, an associate professor at the Tufts University School of Veterinary Medicine, which held an animal acupuncture course for veterinarians this summer.
The course is the second such program to be taught at a veterinary school. Colorado State University first offered the course three years ago.
"Of all the animals that come to me with problems, I'm able to make a difference in a visible and meaningful way in about 85 percent of them," said Dr. Narda Robinson, a physician and veterinarian who designed the CSU course.
In the last few years, pet owners have begun spending more and more money on expensive and complex medical procedures for their animals, from MRIs and CAT scans to bone grafts and asthma treatments. A growing number of companies are even offering health insurance for employees' pets.
In animal acupuncture, pet owners usually pay about $45 for half-hour treatments.
The same principles used in humans are applied to animals. Needles about the width of a horse's hair and less than 2 inches long gently prick the skin to target pressure points that can relieve chronic pain, ease stress and, some say, promote healing of internal organs.
Leslie Grinnell's 8-year-old Doberman pinscher was immobilized by protruding discs in the dog's spine.
"She came downstairs one day and just stuck to the kitchen floor," Grinnell said. "She couldn't raise her head and her legs were spasming."
The Greenfield woman didn't think her dog would survive the trauma of surgery. So Grinnell, who had undergone acupuncture herself for treatment of depression, figured it might help her dog. After about a month of treatments, the dog was able to stand again, she said.
"The amazing thing about using acupuncture on an animal is that they don't know it's supposed to work," she said. "There's no placebo effect you just see it help them."
Despite many success stories, the American Veterinary Medical Assn. said there are not enough scientific studies to determine whether animal acupuncture really works.
Craig Smith, a staff consultant for the association, said the treatment can be used under a veterinarian's supervision if the doctor thinks it will help.
"If I got one call a week asking about acupuncture seven years ago, that was a lot," Smith said. "Now I get about three calls a week."
Copyright 2018 The Associated Press. All rights reserved. This material may not be published, broadcast, rewritten or redistributed. We strive to uphold our values for every story published.