Olathe — Free State High played lights out for awhile. Then the lights went back on Thursday night at Olathe District Activities Center.
With two of the four banks of lights dark early, winless Free State played unbeaten and defending Class 6A state champ Olathe North tough.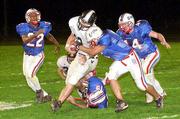 Then the Eagles exploded for 27 points in the second quarter on the way to a 37-7 victory their 18th straight.
"Our offense put our defense in bad situations against a great football team," Free State coach Bob Lisher said. "When you give them turnovers, things happen quick."
With the lights out in the south end of the field, the teams flipped directions whenever they reached the darkness.
Olathe North led 3-0 after a quarter on a 30-yard field goal by Tyler Webb. Free State avoided a touchdown when David Allen busted through and sacked Eagles' quarterback Jon Lamb for an eight-yard loss.
Olathe North grabbed a 9-0 lead with 7:48 remaining until intermission Webb missed the extra point and moments later the bank of lights in the southwest corner came back on.
Minutes later, ballyhooed O-North back Maurice Mack bolted 32 yards for a touchdown to boost the Eagles' lead to 16-0. Then Free State quarterback Matt Berner lost the handle, O-North recovered and three plays later the Eagles scored again for a 23-0 edge.
About that time, the southeast bank of lights returned and the field was fully illuminated for the first time.
Soon thereafter, Free State coughed the ball up again on a busted gadget play. Running back Walker Douglas tried to pass to Berner, but Berner was hung up, Douglas retreated, fumbled and O-North recovered.
Free State lost 18 yards and the ball with under a minute remaining and, worse, two pass completions by Lamb the last 21 yards to Mack with just :11 on the clock put the Firebirds in a 30-0 hole at halftime.
"I thought our kids were capable of playing against North," Lisher said, "and I still think they're capable, but we had to play perfect to have a chance."
Those two second-quarter fumbles the game's only turnovers made the second-half moot. So did the passing of Jon Lamb. The Eagles' senior quarterback completed all eight passes he attempted for 122 yards and three touchdowns.
"They don't throw a lot," Lisher said, "but they throw well when they do. What helps their passing game is play-action passes."
Lamb was ranked ninth in the Sunflower League for yardage after the Eagle's first four games. Thursday's performance should skyrocket him toward the top.
"We've really worked hard on our passing," veteran O-North coach Gene Wier said. "I think (Lamb) is a really good passer, but I liked the way he ran the offense."
Olathe North scored on its first second-half possession to build a 37-0 lead and Wier sent in the reserves. Mack played on that possession, but didn't touch the ball. He finished with 11 carries for 104 yards, all in the first half.
Free State finally scored in the fourth quarter on a lengthy 15-play, 65-yard march. It was just the type of drive Lisher had wanted earlier in order to keep O-North's potent offense off the field.
"That's what we wanted to do initially," Lisher said. "We should have stuck with the game plan. That's my fault. We tried to get fancy."
Still, Olathe North doesn't lead the league in total defense because of smoke and mirrors.
"We had some things designed we thought would work," Lisher said. "But that's a tribute to them. They have a lot of great athletes."
Free State, 0-5, faces another hurdle a week from tonight when the Firebirds will entertain Olathe South, unbeaten going into tonight's game against Lawrence High, at Haskell Stadium.
Copyright 2018 The Lawrence Journal-World. All rights reserved. This material may not be published, broadcast, rewritten or redistributed. We strive to uphold our values for every story published.