We all suffer those keen disappointments in life. Things like rejection letters from colleges, broken legs before ski trips or getting your heart set on some Mojo's wings and finding out ... they're closed! And on such a not-really-a-holiday as Labor Day! I figure that any holiday that doesn't come bundled with a meal (i.e., Christmas, Thanksgiving, Easter) means restaurants should be open even if City Hall is closed. You will not convince me that food delivery is a non-essential service.
Alas, while local ownership of Mojo's brings us a welcome level of quality in its food, it also means the proprietors can give themselves a day off if they feel like it. So after discovering a newfound addiction for Mojo's Phat Elvis sauce, it was nearly a week a week of high tensions and jangled nerves before I got my next fix. You will not convince me delayed gratification is a good thing, but I will sign on for better-late-than-never.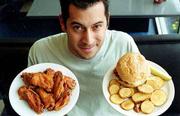 Mojo's motto is: "Ain't no thing like a Mojo's wing." And they are awfully good hot and tender, with a crispy skin. Coated with the fiery "Buff" or the mellower teriyaki, it's easy to gnaw through a Mojo dozen (13) in no time. But for the truly lazy, there ain't no thing like a Mojo's chicken tender. It doesn't rhyme as nicely, but those freshly fried strips are way better than any you'll get from a drive-through.
They come out so hot you can't eat them, and you spend the next several minutes willing yourself to wait a moment but tentatively tearing a bite off anyway and burning your mouth. One solution is to dip the chicken in some sauce, then suck the sauce off, perhaps allowing yourself to nip a bit of fried batter, maybe getting just a sliver of chicken. You will not convince me that patience is a virtue.
Hitting the sauce
A dozen sauces are outlined next to a handy thermometer diagram, so that you can work your way up from the mildest KCMO-JO to Code Red ("Don't rub your eyes or scratch anywhere"). Phat Elvis is relatively low on the temperature totem; this tangy, slightly acidic sauce was one of my favorites and it's not just me; it outsells the other sauces 2-to-1. Rasta Jerk is just below code red on the scale, but was surprisingly palatable for its zone. Yes, it was hot, but it wasn't just all scald and no substance: It actually had distinct flavors as well as burn. Whiskey-a-Go-Go is a manly combination of barbecue sauce with black pepper, worcestershire and "Kentucky's finest," while PBR-beque employs "a certain prize-winning Wisconsin beer." People who are sentimental about the top several layers of skin on their tongue and don't want to lose them will appreciate the milder sweet and spicy glaze.
The best thing about the sauces is that they're all noticeably different, not simply minuscule variations on a barbecue theme. And there's no honey mustard or ranch puffing out the selection, although you can get them if you really want.
Sandwiches at Mojo's also were good: I liked both the Roy, which tops pork with the vinegary Carolina Sumpn' Sumpn' sauce and some cole slaw, and the Kansas Fried Chicken, which uses a healthy dose of cayenne pepper to bring the burn to this Bayou sauce. To round things out, there are a couple of vegetarian choices, some classics like Reubens and B.L.T.'s, hot dogs and even fried bologna. Do your carbo-loading with some sliced french fries, onion rings, baked beans, pasta salad or creole potato salad, and if you're a burger type, look forward to the beginning of October, when they're coming to the menu.
Mojo's proprietors clearly care about their food, which had a quality level not found at any fast-food chain. This concern is even reflected in the delivery menu, which is limited to wings and sandwiches since items like tenders and fries don't travel as well. Mojo's also doesn't try to gouge you at every opportunity: a tongue-cooling small order of celery is only 30 cents. The restaurant recently upgraded to a larger space with air conditioning for sit-down diners, and our friendly service and appreciative attitude of the staff spoke of people who are proud of their restaurant and eager for it to succeed.
A few things have been removed from the menu namely desserts because the restaurant doesn't yet have sufficient business and staff to offer them routinely, but maybe we will see the return of things like Shoo-Fly Pie (a Pennsylvania Dutch treat served with free coffee or milk) just as soon as we all get down there and start scarfing those wings.
So go. Shoo!
Copyright 2018 The Lawrence Journal-World. All rights reserved. This material may not be published, broadcast, rewritten or redistributed. We strive to uphold our values for every story published.