College Park, Md. — Students and school officials sorted through wreckage Tuesday at the University of Maryland, where tornadoes killed two sisters, both students. At least 50 people were injured there and elsewhere in the Washington suburbs.
A 78-year-old volunteer firefighter collapsed and died after helping with the damage. The father of the dead sisters was among the injured.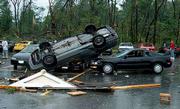 Several buildings were damaged by the tornadoes that struck late Monday afternoon and mobile homes containing offices were destroyed. Debris, overturned cars and trees were strewn across the campus.
More than 100 cars had shattered windows or had been smashed into other vehicles.
The tornado's wind speed likely ranged between 158 and 206 mph, said John Margraf of the National Weather Service in Sterling, Va. The governor's office said it was Maryland's worst tornado in 75 years.
Roughly 22,000 business and residential customers lost power, said Potomac Electric Power Co. and Baltimore Gas and Electric.
Two tornadoes touched down in the area about 10 minutes apart late Monday afternoon, part of a storm system that stretched along the East Coast, the National Weather Service said. At least one funnel cloud was visible from Washington.
Ryan Wirt, a freshman, said he looked out his dormitory window and saw a funnel cloud approaching with lightning flashing inside.
"It looked as big as my whole building," Wirt said.
The two students died when their car was hurled hundreds of yards. They were identified as sisters Colleen Patricia Marlatt, 23, and Erin Patricia Marlatt, 20, of Clarksville, Prince George's fire spokesman Chauncey Bowers said.
The tornado carried their car the length of two or three football fields, pushing it over or between dorm buildings before it came to rest in an area of trees, said Mark Brady, another Prince George's fire department spokesman.
Their father, F. Patrick Marlatt, needed 40 stitches for facial cuts. He is deputy director of the Maryland Fire and Rescue Institute, whose trailer offices on the campus were destroyed.
Copyright 2017 The Associated Press. All rights reserved. This material may not be published, broadcast, rewritten or redistributed. We strive to uphold our values for every story published.