The warm kitchen filled with the steady rhythm of rolling pins across cutting boards as German polka music played in the background.
More than a dozen pair of hands meticulously folded the dough after a mixture of cabbage and browned meat was added to each bierock. Silver baking trays lined with 40 bierocks each were placed into the oven.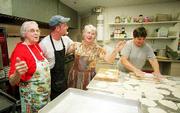 All these efforts Saturday were in preparation for the fifth annual Oktoberfest at St. John the Evangelist Catholic Church, set for Oct. 6.
"We are working up a storm," said Mariele Berthold, a St. John's member and Oktoberfest volunteer who grew up in Bavaria. "This year we have a lot more help and that makes it more fun."
The group of church volunteers created bierocks from 80 pounds of beef and ground pork, 100 pounds of cabbage, 50 pounds of onion and secret seasonings all to be wrapped in 300 pounds of slightly sweetened dough, baked and then frozen until the Oktoberfest.
"The bierocks are typical Volga German food," Berthold said. "Everyone seems to like them."
In fact, folks at last year's Oktoberfest liked them so much that all 300 bierocks sold within the first hour. That's why they made more than 750 for this year's festival.
The festival features several ethnic recipes from the Volga Germans who lived in the Volga River region of Russia. Many immigrated to the United States in the late 1800s, and a large group settled near Hays in western Kansas.
John Gerstner, chef at Baker University in Baldwin and head chef for the St. John's Oktoberfest, grew up in Victoria, a small town near Hays. He is of Volga German descent and his relatives helped build the well-known cathedral in Victoria.
His grandmother, Florence Gerstner, still lives in Victoria but came to Lawrence to help supervise Saturday's cooking frenzy. John Gerstner, 28, said he started cooking when he was 16 thanks to his grandmother and mother.
He plans to serve a new family recipe at this year's Oktoberfest a hearty, creamy Volga German bean and noodle soup called Kathrine Stadt Suppe.
"My grandmother made this when I was growing up," he said. "But it has to be good soup weather, or else I will not make it."
Oktoberfest organizers hope this fall's event will be the largest. Tim Keller, festival chairman, is preparing for 2,500 guests 1,000 more than last year by renting a bigger tent and boosting food preparations.
Under the tent, platters of food and a la carte items will be served. In addition to the bierocks and soup, more traditional German dishes will include wiener schnitzels (a breaded pork cutlet), bratwursts, cabbage rolls, sauerkraut, potato salad and rye bread.
Keller said Gl a warm red wine sweetened with spices, will return. It was another sellout at last year's Oktoberfest.
"We had to make a mad dash to make some more," he said.
There also will be a beer garden where people can purchase mugs and refill them with beer. Children's activities will include bobbing for apples and a puppet show.
Money raised from the event will go to the St. John's School capital improvement fund.
"We just try to have fun," Keller said. "We don't want it to get so big that it's not a family affair anymore."
But for Gerstner, the food is what he takes great pride in and looks forward to the most. He especially enjoys sharing his family heritage with others.
"I grew up with this kind of food, speaking German and singing German songs," he said. "It's disappearing, and I'm not going to let that happen."
| | | |
| --- | --- | --- |
| | | |
| | Kathrine Stadt Suppe16 ounces navy beans16 ounces ham, cubed2 large onions, diced16 ounces hashbrowns, cubed (frozen is OK)1 pound egg noodlesgarlic, salt and pepper, to taste2 pints heavy whipping creamSoak navy beans overnight in water. Discard water and rinse beans. Put beans in pot with 1 gallon of fresh water and cook until tender.Add ham, onion, hashbrowns, noodles, garlic, salt and pepper to pot. Cook until noodles are soft.Add heavy whipping cream to pot. Simmer for two hours over low heat.Bierocks2 packages dry yeast2 cups warm water1/4 cup sugar1 1/2 teaspoons salt1 egg1/4 cup margarine6 to 6/12 cups flour1 1/2 pounds ground beef1/2 cup onion3 cups finely chopped cabbage1 1/2 teaspoons salt1/2 teaspoon pepperdash of hot red pepper sauceDissolve yeast in the warm water. Combine with sugar, salt, egg, margarine and flour. Mix dough thoroughly and let rise.*Brown ground beef, onion and cabbage in a large skillet. Drain fat. Add salt, pepper and hot sauce, if desired. Cover skillet and continue cooking over low heat, stirring occasionally until cabbage is tender. Cool slightly.On a floured board, roll dough into thin sheets; cut into 5-inch squares. Place 2 tablespoons of meat mixture onto each square. Bring edges of dough together over meat and pinch to seal. Place bierock, pinched side down, on greased cookie sheet. Let rise 15 minutes.Preheat oven to 350 degrees. Bake bierocks for 20 to 30 minutes. Serve hot, with gravy or mustard, or cold with mustard.* To save preparation time, use frozen bread roll dough. Thaw according to package directions, then roll each piece into a 5- or 6-inch square. Fill with meat and bake as directed above. | |
| | | |
Copyright 2018 The Lawrence Journal-World. All rights reserved. This material may not be published, broadcast, rewritten or redistributed. We strive to uphold our values for every story published.