A Lawrence group that helps victims of domestic violence is asking the Douglas County Commission to help by tightening regulations for gun shows at the fairgrounds.
Board members with Women's Transitional Care Services asked commissioners Monday to require all gun show vendors at the Douglas County 4-H Fairgrounds to do background checks on each person buying a gun.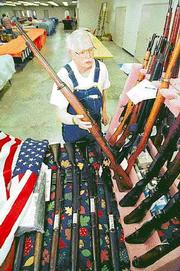 Federal law already requires that gun dealers perform a check on buyers at gun shows, but vendors who are not part of a business can sell at shows without background checks of buyers.
Members of the WTCS, which operates a shelter for battered women, said the fact guns can be bought so easily could dangerously increase the level of violence in domestic disputes.
"A lot of times when an abuser is angry and a women has left the situation, if there is easy access to a gun, that can create real problems," said Sarah Terwelp, WTCS executive director. "I don't have specific statistics on how often a gun is used to injure or kill a women in a domestic violence situation, but just the threat of having a gun makes it very tough for a woman to make a safe decision.
"If the man says he will kill you or your kids, if he has easy access to a gun, it makes that threat all the more real."
Commissioners said they wanted to study the issue more but said they understood the concern.
"It doesn't make any sense that regulations at a gun show should be less restrictive than at a gun shop," Commissioner Charles Jones said.
"I think we should take a look at this because we should manage a public building with the public's safety in mind," he said. "If something bad ever happened as a result of this, I wouldn't want the county to be associated with it."
A partner in a company that operates two gun shows a year at the fairgrounds said the new regulations were unnecessary.
Steve Vogelsang said when he and his partner had the Lawrence Gun and Knife Show at the fairgrounds earlier this month only "one or two" of 86 booths were operated by individuals buying or trading without doing background checks.
"Private individuals who sell guns at a gun show are a very small percentage," Vogelsang said.
Federal regulations don't limit the number of guns individuals can sell before they must begin complying with background check requirements. Instead, they say, individual sellers must do checks when they sell with the intention to profit.
Vogelsang said that he believed people who were pushing for the new regulations probably just didn't understand guns.
"The fear here is created by individuals who fear guns because they aren't educated about guns, but that is one of the things that we want gun shows to provide education," Vogelsang said. "There is obviously some fear here that gun shows are a bad thing, and we are going to have to try to educate some people."
Commissioners gave no timeline to put the item on the agenda.
Terwelp said that WTCS would continue to push commissioners to deal with the issue and said the group also likely would approach Franklin County leaders about similar regulations. WTCS also serves the Ottawa area.
Copyright 2018 The Lawrence Journal-World. All rights reserved. This material may not be published, broadcast, rewritten or redistributed. We strive to uphold our values for every story published.