New York — As a breeze rustles the leaves in a city park, Terry Schmidt pops open his laptop computer and fires up his Web browser.
Schmidt's fingers race across the keyboard as he surfs the Internet wirelessly and without owing anyone a cent.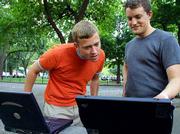 The 25-year-old programmer belongs to a budding group of digital activists in North America and Europe who are providing the public with pockets of free wireless Internet access.
Bucking the trend toward commercialization of the Internet, these "free wireless" advocates are urging people with high-speed connections to share the wealth.
"You can't store bandwidth," Schmidt said. "If you don't use it, it goes to waste."
Internet service providers are not warming to the idea, however. Contacted by The Associated Press, two major providers said retransmission of their bandwidth runs counter to user agreements.
Enabling the "free wireless" movement is the increasingly popular Wi-Fi, or 802.11b, wireless networking standard and the relatively cheap hardware that uses it. Powering Schmidt's online experience is a transmitter behind a window in a building adjacent the park.
Advocates of Internet-sharing exude a do-it-yourself camaraderie reminiscent of the 1960s. They urge construction of homemade antennas. They transmit from discarded computers refitted with the free Linux operating system. Their Web sites proffer plans to erect rooftop transmitting "nodes" for as little as $300.
Depending on the quality of the Net connection, access can be very snappy. Internet throughput in the park obtained via a $100 network card clocks in at four megabits per second, about 70 times the speed of a typical dial-up connection.
Modern-day Robin Hoods
Overall, the activists seek to shunt bandwidth from rich to poor.
"The question should be, how should we distribute this resource to the people who don't have it?" asked James Stevens, 39, co-founder of London's Consume.net. "If you've got a 2 megabit (-per-second) DSL line in your business and everybody knocks off at five, that line is available. It can be set aside for public use."
In New York, Schmidt surfed the Internet in a leafy corner of the park, where passers-by paid him little heed. He connected to bandwidth donated under the auspices of NYCWireless.net, a group that aims to set up similar access pockets access across the city.
In Seattle, such zones of connectivity otherwise invisible are demarcated by orange stickers reading "SeattleWireless."
One such "cloud" hovers around a bus stop on Bellevue Avenue East, where commuters rev up their laptops while waiting for the downtown bus, said Matt Westervelt, 29, of the SeattleWireless group.
The movements in Seattle and London go beyond providing free Internet access. Activists in those cities are struggling to build point-to-point public wireless networks.
"In a couple years, anyone will be able to buy a machine, put up an antenna and be connected to the metropolitan area network," Westervelt said. "We don't see any reason for a telecom charge."
Building upon itself
The budding networks use line-of-sight communications that link individual computers across cities in a daisy-chain-like sequence. Users who tap into the free network wind up spreading it, helping it grow.
The eventual goal, say activists like Adam Shand of Portland, Ore.'s Personal Telco Project, is a parallel public Internet.
"We're trying to bring the Internet back to the way it was in the old days, before commercial interests took it over," he said.
Free public networks are aimed to circumvent Internet service providers' installation and connection fees.
With neighbors donating bandwidth, activists say poorer parts of the city often bypassed by high-bandwidth providers might finally be able to afford to venture online.
In the working class Bay Ridge section of Brooklyn, NYCWireless already set up a free node that shares its 1.5-megabit DSL connection.
Now, the group wants to target schools, which urban planning researcher Anthony Townsend calls "oases of bandwidth" in poor neighborhoods. Schools typically use the Internet between 8 a.m. and 3 p.m. In the evenings, the bandwidth sits idle.
"When people get home in the evenings and want to get on the Internet, that's exactly when the schools aren't using it," Townsend said. "All this bandwidth is being paid for by tax dollars. It's being wasted."
Copyright 2018 The Associated Press. All rights reserved. This material may not be published, broadcast, rewritten or redistributed. We strive to uphold our values for every story published.