NABLUS, West Bank — As Israeli Prime Minister Ariel Sharon on Sunday postponed scheduled peace talks with Palestinian leader Yasser Arafat, Palestinian university students opened an exhibition that included a grisly re-enactment of a suicide bombing in Jerusalem. The exhibit commemorates the year-old uprising against Israel.
Wearing a military uniform and a black mask, a Palestinian set off a fake explosion in a replica of the Sbarro pizzeria in Jerusalem, where a suicide bomber killed himself and 15 other people last month. It was one of the deadliest attacks in a year of Mideast violence and drew widespread international condemnation.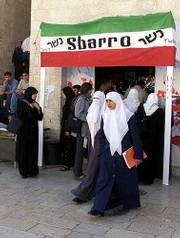 The exhibit at Al-Najah University in Nablus was put on by students who support the militant Islamic movement Hamas, which carried out the Jerusalem attack. Support for Hamas traditionally runs high at the university, which is a hotbed for Palestinian militants and has produced a number of suicide bombers.
Thousands of people, most of them university students, visited the exhibit, which is to run for a week in the university cafeteria.
In another part of the exhibit, visitors looked through dark windows to see mannequins dressed as suicide bombers. Each had Islam's holy book, the Quran, in one hand, and an automatic rifle in the other real suicide bombers often assume this pose in videos they make before staging attacks.
"Our message from this exhibition to our people is that the occupiers will suffer as long as we are under occupation," said Ala Hamedan, one of the organizers. "To the Israeli people: If you leave the occupied territories, you will not suffer and you will not see blood anymore."
Twenty-one Palestinians have blown themselves up in suicide attacks in the past year, killing more than 50 people and wounding hundreds. Hamas, along with Islamic Jihad, have carried out the bombings.
Among Palestinians, only a minority supported suicide attacks before the current uprising began last September. However, recent polls have said a majority support such attacks.
Overall, more than 800 people, most of them Palestinians, have died in the fighting. The Palestinians say their uprising, or intefadeh, is a struggle for statehood and an end to Israel's 34-year occupation in the West Bank and the Gaza Strip.
In another part of the exhibit, one room pays tribute to three Hamas leaders killed in targeted attacks by Israeli troops. Three open graves surrounded by candles hold white coffins for Jamal Mansour, Jamal Salim and Salah Darwazeh, all senior Hamas figures in Nablus.
The exhibit also includes a large rock in front of a mannequin wearing the black hat, black jacket and black trousers typically worn by ultra-Orthodox Jews. A recording from inside the rock calls out: "O believer, there is a Jewish man behind me. Come and kill him."
Looking at the exhibits, economics student Ghadir Haddad, 19, said she identified with the displays.
"This exhibition shows the reality we live in. Suicide bombings here, killings there," she said. "I'm very happy because, as they kill and torture us, they are also killed and tortured."
Israeli Foreign Minister Shimon Peres told Arafat in a telephone call Sunday night that if there were no acts of violence today the two could meet that evening, Israeli media reported. It was not clear where or when that would take place.
Arafat declared a cease-fire last Tuesday, and Israel immediately announced a halt to offensive military operations. Since then, one Palestinian and one Israeli have been killed. The sides have exchanged fire on several occasions, and Palestinian militants have fired mortars in the Gaza Strip, but the level of violence has dropped.
However, Sharon is insisting on a full 48 hours without any unrest.
"These meetings can take place once there will be full cessation of terror and hostilities," he said in an interview with the Fox News Channel. "We did not ask too much."
Copyright 2017 The Associated Press. All rights reserved. This material may not be published, broadcast, rewritten or redistributed. We strive to uphold our values for every story published.