San Jose, Calif. — As millions adorn their living room windows and SUVs with Old Glory, people are reviving another familiar, reassuring way of expressing their patriotism: They're busting out with renditions of "God Bless America" at every event imaginable.
People from ballplayers to stockbrokers to congressional representatives are joining to sing the song written by Irving Berlin 83 years ago.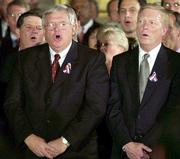 When Disneyland reopened last week, families sang it. Musicals on Broadway now conclude with casts leading audiences through it. It's happening everywhere, from Rosh Hashana services to John Mellencamp concerts.
But why "God Bless America" and not "The Star-Spangled Banner" which is, after all, America's official national anthem or even Lee Greenwood's "God Bless the U.S.A"?
"The words to 'God Bless America' are very gentle and healing, as opposed to 'The Star-Spangled Banner' with 'the rockets' red glare' " says Grant Norman, who plays Beast in the touring production of "Beauty and the Beast" that stopped last week at the Center for the Performing Arts in San Jose.
Norman and his fellow cast and crew members started singing "God Bless America" at the center on Sept. 12, the day after planes attacked the World Trade Towers and the Pentagon. The audience joined in. "It was wonderful, unifying feeling," recalls Stewart Slater, executive producer of the American Musical Theatre of San Jose, which was presenting the show.
The practice continued through the end of the run on Sunday, and "every night," Slater says, "as I watched the audience walking out, everyone was drying their eyes a little bit."
Many Americans took their cue from the members of Congress who, on Sept. 11, sang the song on the Capitol steps in Washington, Norman says. President Bush's habit of signing off his speeches with "God bless America" also has helped place the song in people's minds, says Mel Matsushima, president of the Rotary Club of San Jose.
"The Rotary Club of San Jose has sung 'God Bless America' for more than 25 years before each meeting, every Wednesday," says Matsushima, a dentist. "We feel that singing it binds people together." He notes a further reason for its popularity over the more melodically complex "Star-Spangled Banner": "God Bless America" is "a song that most people can sing."
Berlin wrote it in 1918 for a musical called "Yip, Yip, Yaphank." But originally, it conveyed more of an isolationist attitude, and it failed to catch on.
Twenty years later, Berlin revived it and changed the lyrics to reflect the mood of an America that sensed war on the horizon. Kate Smith recorded the new version for CBS radio, and it was embraced as a new anthem during World War II.
Copyright 2018 The Lawrence Journal-World. All rights reserved. This material may not be published, broadcast, rewritten or redistributed. We strive to uphold our values for every story published.