If all the patriotic rhetoric and flag-waving doesn't increase interest in ROTC, commanders are hoping some extra cash will.
For the first time in 10 years, monthly stipends for Reserve Officers' Training Corps cadets will increase significantly on Oct. 1. The stipends help cadets pay for room, board and other items not covered by their military scholarships.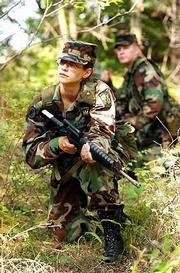 Currently, the stipend has been $200 for all cadets. Starting Oct. 1, it will be $250 for freshmen and sophomores, $300 for juniors and $350 for seniors.
The checks will be $250 for freshmen, $300 for sophomores, $350 for juniors and $400 for seniors in October 2002.
"We spend a fortune on books and a lot of stuff," said Navy ROTC cadet Ryan Phillips, a freshman at KU. "Fifty dollars may not seem like a lot, but over the next four years, it'll mean a fortune."
ROTC numbers at KU have been generally steady for the last five years, but leaders say the stipend increase could help boost enrollment. The Air Force has 56 cadets this fall. The Army has about 80, and the Navy has about 70.
"I think that it will make the program somewhat more attractive to people if they see the stipend," Navy Capt. Jim Cooper said. "And it will be easier for people once they've gotten in the program to get along."
The ROTC programs at KU and other universities are a fast-track way for cadets to become commissioned officers. After graduating, they generally serve four to 10 years in the service, depending on the branch and their job.
During school, they are required to complete special ROTC courses and physical training.
Micah Gatz, Cadet Wing Commander for KU's Air Force ROTC, said the program seemed to be the best way for him to become a pilot. His brother went through the Coast Guard academy but didn't like the grueling lifestyle.
Gatz, a senior, said he thought the stipend increase would especially help recruit KU students interested in a military career.
"That is a substantial increase," he said. "Some people might be able to stop having a part-time job so they can work on school more."
ROTC leaders are advocating another change that could make life easier for cadets. Some universities offer scholarships that cover room and board for cadets. KU doesn't.
Alan Cerveny, director of admissions and scholarships, said no one has donated money for such a scholarship.
"We have to operate with donor requirements, and right now we don't have a donor that has put together a scholarship for ROTC like we have for business students or engineering," he said.
But he said the KU Endowment Association's "KU First" capital campaign, with a total goal of $500 million, may include money for such a scholarship.
For now, cadets are looking forward to a little extra spending cash, said Army Maj. Brian DeToy.
"It's excited the cadets about the Army finally taking care of them," he said.
Copyright 2018 The Lawrence Journal-World. All rights reserved. This material may not be published, broadcast, rewritten or redistributed. We strive to uphold our values for every story published.