Atlantic City, N.J. — Miss Oregon Katie Harman, a collegian who aspires to a career in bioethics, was crowned Miss America 2002 in a patriotic telecast Saturday night.
Harman, 21, is the first Oregon contestant to win the pageant. She plans to use her reign to promote the supporting of terminal breast cancer patients.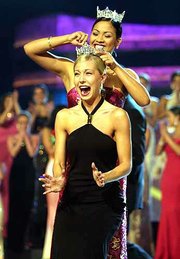 She delivered a passionate rendition of "O Mio Babbino Caro," a Puccini aria during the talent portion of the pageant. She gasped when her name was announced as the winner before leaning down to receive the crown from outgoing Miss America Angela Perez Baraquio.
Host Tony Danza opened the show with a monologue mourning the lives lost in terrorist attacks less than two weeks earlier, then he led the flag-waving crowd in a spontaneous recital of the Pledge of Allegiance.
Danza said contestants and organizers decided to go ahead with the pageant while paying homage to the victims and tapping into the nation's resurgent patriotism.
"We don't carry on to make less of what happened. We carry on to make more of it, and to add resolve to our nation's voice," Danza said.
He appealed to viewers for donations to the Sept. 11th Fund, a charity set up in the wake of the attacks, and a graphic appeared intermittently on the screen to tell them how to do so.
Miss Massachusetts Abbie Lynne Rabine was first runner-up and Miss Tennessee Stephanie Culberson was second runner-up. Miss District of Columbia Marshawn Evans and Miss New York Andrea Plummer rounded out the finalists.
Harman is a speech communications major at Portland State University.
Copyright 2018 The Associated Press. All rights reserved. This material may not be published, broadcast, rewritten or redistributed. We strive to uphold our values for every story published.