Carol Graham feels lucky. She had four years to say goodbye to her husband, Barney. Thankfully, his failing health did not prevent them from revisiting memories or cherishing new moments.
"He kept a prayer," Carol, 73, said. "It said, 'Just for today, we will make it the best day we can.'"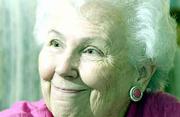 Unlike some widows, Carol had time to learn about household maintenance and the family's finances. She had time to develop a circle of supportive friends.
And she had time to prepare herself for living alone after 43 years of marriage.
"We had been so realistic (about his health) for four years, so a lot of the grieving had already been done (when he died)," she said. "So I was able to move on pretty fast. I had support from friends, family and organizations. I feel like I've lived a privileged life, and this is a part of life."
About 1 million Americans are widowed each year and those numbers are growing rapidly because of the baby boom generation. The Social Security Administration projects that by 2010, nearly 1.05 million Americans will lose spouses each year, and by 2030 that number will increase to more than 1.5 million.
Both figures do not include the deaths of partners in committed nontraditional relationships.
Caring through the illness
The Grahams met as sixth-graders in Pratt but didn't start dating until Carol's senior year at Kansas University, where Barney also attended school. They married in 1950 and had three children.
A take-charge sort of man, Barney established a dental practice in Olathe but also had interests in real estate and banking. They moved to Lawrence in 1978, after living eight years on a farm near Paola.
When Barney realized he would never fulfill his dream of doing missionary work in Africa, he looked closer to home and established a missionary dental practice in Topeka. Carol kept busy teaching adult education classes.
And then something started going haywire with Barney's heart.
The once-vibrant man grew weak, and by December 1989 his failing health had forced him into early retirement.
"Only 25 percent of his heart was functioning," Carol said.
In addition, he had developed severe cataracts that limited his vision.
Carol became his primary caretaker until his death in April 1993. He was 64.
"He was home sick for four years. He was homebound the last two years," she said. "I won't say it was all easy."
And in some ways, Carol was homebound, too. Her husband would sleep 12 hours a day. When he was awake and mobile in the mornings, she would leave to run errands or visit her ailing mother.
"The years we were home, he was active in watching the business channel (on TV) and teaching me about it. When he couldn't see, I would read the financial reports to him," she said.
To help break the routine, Carol took up quilting and became a volunteer at Watkins Community Museum of History, primarily doing transcriptions at home on her computer.
Moving forward
After Barney's death, Carol found herself in a spot she'd never known. She realized she had not made much of a life apart from her husband.
"This may sound disrespectful, but in a sense I've always been the one who's enabled everyone else in the family to reach their dreams," she said.
"I won't say I deferred my dreams, because (being a wife and mother) is want I wanted to do."
But if the family was planning a trip, she would always think of places where others might want to go. If she cooked a meal, she always prepared something that would please others.
When she became a widow, she was forced to start making decisions based on what she wanted to do.
"Now if I go to a movie, I think of what movie I would like to go to see," she said.
She also has been taking trips to places she's wanted to visit: Greece and Turkey.
"I went to Istanbul by myself to see a friend," she said. "I wasn't responsible for anyone else. If there was a problem, it was my problem."
One of the most difficult times for widows or those who have lost partners is Christmas.
Carol realized that not everyone on her Christmas card list would have heard of Barney's death and she wasn't looking forward to receiving cards sent to both of them.
So she tried to ward that off by sending out Thanksgiving cards. The cards let friends know Barney had died and how thankful she was for the life they had shared.
Also helping her make the transition from wife to widow was a core group of friends and a book recommended by one of those friends, "The Last Gift of Time: Life Beyond Sixty" by Carolyn G. Heilbrun.
After a while, Carol realized that she didn't want to waste the time she had left in this world grieving.
She also realized that her husband had done just about everything he wanted to during his lifetime and that made letting go of the grief easier.
Copyright 2018 The Lawrence Journal-World. All rights reserved. This material may not be published, broadcast, rewritten or redistributed. We strive to uphold our values for every story published.