Boulder, Colo. — When push comes to shove, sometimes it's best to just push and shove.
Colorado coach Gary Barnett used his first-half strategy to energize a second-half comeback that resulted in a 27-16 win over Kansas in the Big 12 Conference football opener for both teams Saturday.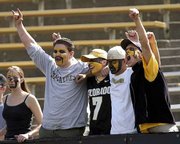 "In the first half, we were mixing it up pretty good," Barnett said. "We tried to get them to run east and west and get them tired a little bit."
So Barnett switched to running it up the gut against the Jayhawks in the second half.
"We decided we were better off to go at them," Barnett said. "I thought we'd be able to get to them in the second half."
Chris Brown rushed for 140 yards and Cortlen Johnson 113 and the Buffs finished with 338 yards on the ground to go with 186 passing.
"We went in at halftime and we knew we were stopping ourselves," Johnson said. "It was nothing they were doing."
Most of those mistakes were penalties, although quarterback Craig Ochs threw an interception. Ochs suffered a mild concussion late in the first half and missed most of the third quarter before returning.
"I felt a little wheezy after the hit and was having some visual problems," Ochs said. "The coaches don't like the way I play. They'd rather me run out of bounds. But if I wanted to slide, I would have played baseball."
Ochs spent most of the third quarter handing off to Brown and Johnson "The offensive line opened up like the Red Sea," Brown quipped but also tossed a 17-yard TD pass to tight end Daniel Graham to give the Buffs a 20-16 lead with 11 minutes left.
Graham was uncovered on the crossing pattern.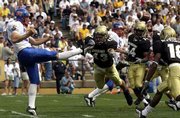 "We ran a lot more misdirections and crossing routes," Barnett said. "We were able to run routes where two receivers run off each other and got him open that way."
Meanwhile, Colorado's defense held Kansas to just 76 yards in the second half.
"We started slow, but we bounced back," defensive tackle Justin Bannan said. "We continued to show people that we are a good defense. We stuttered a little, but we remained mentally tough and we showed great resilience."
The Buffs were motivated, at least in part, by comments KU defensive back Andrew Davison had made during the week. Davison stated, in effect, that Colorado wasn't as good as its record.
"It was a slap in the face," Colorado offensive tackle Victor Rogers said. "He wasn't just voicing his opinion, he was voicing the whole team's opinion, so we knew how they felt about us."
Colorado has Saturday off before playing Kansas State on Oct. 5.
"When you look at the stats in the paper," CU safety Reggie Robinson said, "it looks like we played a good game. But I guarantee you if we play the same way against Kansas State, we will lose. We just can't start off slow and fall behind like we did."
Barnett, in fact, thought his team wasn't crisp because it didn't play last Saturday. The Buffs' Sept. 15 game at Washington State was postponed because of the terrorist attacks and has since been canceled.
"It looked like we had two weeks off," Barnett said. "I really thought we played hard. We just can't play that sloppily in two weeks."
Copyright 2018 The Lawrence Journal-World. All rights reserved. This material may not be published, broadcast, rewritten or redistributed. We strive to uphold our values for every story published.