Kabul, Afghanistan — Weary Afghans loaded belongings into trucks and carts Friday and left the capital, fearing U.S. airstrikes after their Taliban rulers rejected American demands to hand over alleged terrorist mastermind Osama bin Laden.
"Out of 20 homes on our street, most of the families have left," said Mohammed Hussein as he piled his family's belongings into a pickup truck to join relatives in Logar province south of Kabul, the capital. "Anyone who can is leaving."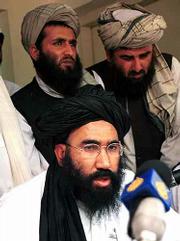 Tensions rose in this capital devastated by 23 years of civil war after President Bush warned the Taliban to hand over bin Laden and his chief lieutenants or "share in their fate."
Addressing a joint session of Congress, Bush also demanded the Taliban give the United States full access to terrorist training camps and release imprisoned U.S. aid workers, saying the demands were not negotiable. Bush told U.S. military forces to be ready for war.
The Taliban rejected the demands.
"There has been no change in our stand toward Osama," the Taliban ambassador to Pakistan, Abdul Salam Zaeef, said in Islamabad. "It would be an insult to Islam and its laws if bin Laden is handed over to the United States or forcibly expelled from Afghanistan."
Zaeef insisted that the United States has provided no credible evidence that bin Laden was behind the Sept. 11 attacks on the World Trade Center and the Pentagon.
Religious leaders took advantage of traditional Friday services to prepare Afghans for war. Speakers in many mosques reminded the faithful how Afghan fighters had driven the Soviet army from their country and vowed to do the same to the Americans.
"The Americans are using the name of bin Laden as an excuse to attack our country," Mohammed Nawab Haideri told about 8,000 Shiite Muslims at a mosque in Dashat-e-Barchi, in western Kabul.
Haideri said all Afghans hoped "America won't attack this poor country" but if they did, "all Muslims are ready for jihad," or holy war.
Copyright 2018 The Associated Press. All rights reserved. This material may not be published, broadcast, rewritten or redistributed. We strive to uphold our values for every story published.