An impressive array of talent from the worlds of music, films and television mounted a low-keyed but inspirational celebration of the American spirit Friday in a history-making two-hour telethon to raise money for victims and their families in the terrorist attacks in New York and Washington and the crash of a hijacked plane in Pennsylvania.
Instead of tote boards, studio audiences and other trappings, this benefit was devoid of money totals, applause, and even hosts in the traditional sense. Instead, stars like Tom Hanks, Tom Cruise, Cameron Diaz, George Clooney, Calista Flockhart, Amy Brenneman, Will Smith and Muhammad Ali talked about heroes who gave their lives or saved the lives of others after two hijacked airplanes crashed into the World Trade Center on Sept. 11.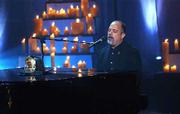 The aggregation of channels showing the telethon was unprecedented in the history of modern television. It ranged from the Big Four networks ABC, CBS, Fox and NBC to the three mini-nets UPN, the WB and PAX and a slew of cable networks, including pay channels HBO and Showtime and basic providers BET, Court TV, Discovery, E!, Lifetime, Sundance Channel, Telemundo and Univision. More than 30 networks signed on for the broadcast.
In addition, several Westwood One and Clear Channel Communications radio affiliates simulcast the special. In all, it was expected that some 8,000 radio stations in the United States broadcast at least parts of the telethon. Internet coverage was available through www.tributetoheroes.org.
Hanks said those on the flight in Pennsylvania "witnessed the brutality onboard and somehow summoned the strength to warn us and take action. United they stood and likely saved our world from an even darker day of perhaps even more unthinkable horror."
Stevie Wonder, Bruce Springsteen, Alicia Keys and many more performed songs in a mostly straight-ahead manner devoid of pretension. Tom Petty looked at the camera and sang how "I won't back down." Billy Joel was in a "New York State of Mind" in New York City, playing the piano with a firefighter's helmet on top of it.
The telethon, shown from 8 p.m. to 10 p.m. CDT, was broadcast live from undisclosed, candle-and-spotlight lit studios in Los Angeles and New York. Part of the secrecy was due to heightened security concerns.
Actress Dyan Cannon of NBC's "Three Sisters" and television producer Marti Noxon (UPN's "Buffy the Vampire Slayer") both said Friday the FBI had notified the heads of the major production companies of telephone threats that a bomb would destroy a studio if America retaliated against Pakistan and Afghanistan. Most of the studios were shut down.
But the telethon retained one standard feature: the phone banks. These were manned by celebrities including Jack Nicholson, Al Pacino, Whoopi Goldberg, Cuba Gooding Jr., Goldie Hawn and Kurt Russell.
Other highlights of the free-from-Hollywood-schmaltz presentation included former "NYPD Blue" co-stars Dennis Franz and Jimmy Smits, who talked about a missing New York police officer, one of a legion Smits said is "willing to sacrifice their lives in an instant for people they do not know;" and the return to the spotlight of singer Mariah Carey.
Copyright 2018 The Lawrence Journal-World. All rights reserved. This material may not be published, broadcast, rewritten or redistributed. We strive to uphold our values for every story published.