With no-fly zones declared over football stadiums and bomb-sniffing dogs deployed at the Miss America Pageant, Americans head into what might have been a festive weekend in a state of watchfulness.
Several Hollywood studios have canceled tours and increased patrols after an FBI warning to the industry about possible follow-up attacks to the devastation of Sept. 11. An official in Ohio said water departments across the country also received an FBI warning Friday to be alert for saboteurs.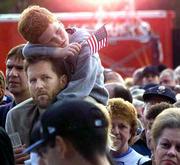 Authorities in many areas said they had no credible information about a specific, new terrorist threat. But an array of precautions were being taken even as civic leaders urged the public to go about their pursuits as normally as possible.
'Stand up to fear'
"This is the time to stand up to fear," Massachusetts Atty. Gen. Thomas Reilly said. "Now is the time to visit the city and go wherever you want to go."
Reilly joined with Boston's mayor and police chief to reassure the public Friday, following news that U.S. Atty. Gen. John Ashcroft had notified officials the city might be a possible terrorist target.
Boston FBI spokeswoman Gail Marcinkiewicz said agents have investigated and discredited the threats there.
In Columbus, Ohio, water division administrator Jeff Hubbard said the FBI sent an e-mail to water departments nationwide, telling them to take extra precautions today.
FBI warnings also were issued this week to fertilizer dealers, urging them to be alert for suspicious attempts to purchase ammonium nitrate or urea. Ammonium nitrate was used in the bomb that destroyed the federal building in Oklahoma City in 1995.
Today and Sunday will mark the full-scale return of college and professional football after games were called off last weekend. Fans were told not to bring backpacks or containers into stadiums, and the Federal Aviation Administration banned all aircraft from flying within 3 miles of major sporting events.
Miss America measures
In Atlantic City, N.J., organizers of the 81st annual Miss America Pageant scheduled for today put tight security measures in place.
The annual parade, normally the night before the pageant, was canceled for the first time ever after city authorities said they could not guarantee security along the 2 1/2-mile Boardwalk route.
A legion of police officers, security guards and volunteers inspected the bags and purses of everyone entering Boardwalk Hall, the pageant venue.
Fans attending preliminary contests during the week were screened with a hand-held metal detector. Bomb-sniffing dogs and their police handlers stood by.
Officials nationwide who oversee strategic sites dams, reservoirs, energy facilities, ports, airports said stepped-up security had been in effect since the terror attacks in New York and Washington.
Following the attacks, investigators uncovered evidence that generated some concern there might be more trouble on Sept. 22 today. Authorities said at least four people targeted by the investigation were booked on flights that day leaving San Antonio for California or Denver.
Chuck Cannon, a spokesman at Denver International Airport, said he had heard nothing about a feared attack. "I talked with some FAA security people this morning, and nothing like that was mentioned," he said.
Copyright 2018 The Associated Press. All rights reserved. This material may not be published, broadcast, rewritten or redistributed. We strive to uphold our values for every story published.